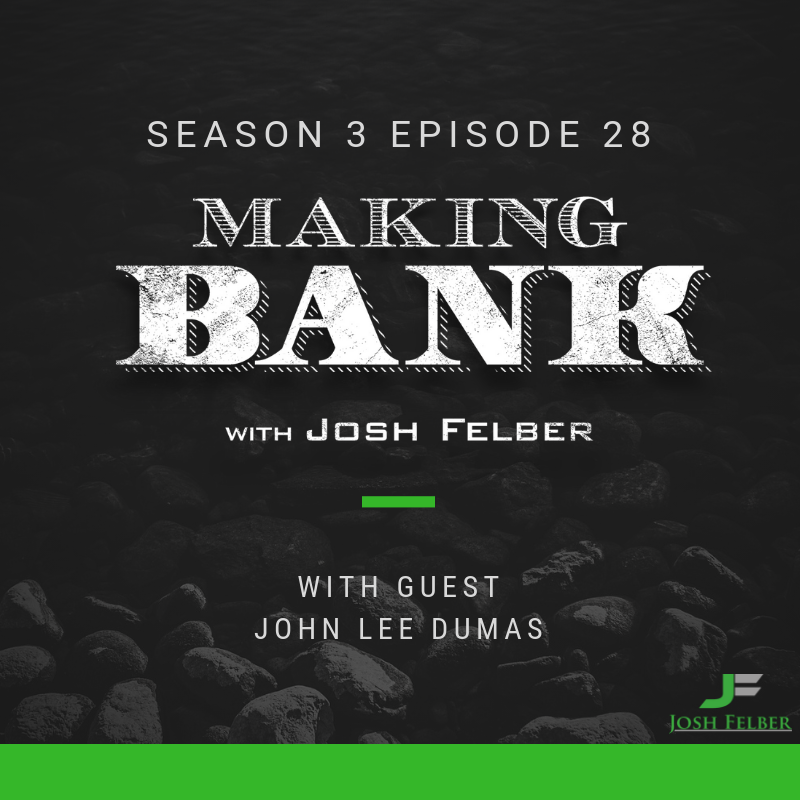 MAKING BANK is now a weekly YouTube TV show / iTunes Podcast full of #Success and #Business with Josh. 
Subscribe to the Podcast MP3: bit.ly/TumblrSubscribe
Subscribe to iTunes: bit.ly/JoshF_Itunes
SUBSCRIBE for weekly episodes and bonuses: bit.ly/JoshFSubscribe
=== SUMMARY ===
Today on #MakingBank we're catching up with fellow podcaster, serial entrepreneur, and creator of the Freedom Journal, John Lee Dumas. He was here two years ago, and now we're lucky enough to check in, hear about all of the growth of EOFire and what he's done to become so successful with a physical product when most people are pushing into the virtual product space.
Since the launch of his daily podcast Entrepreneurs on Fire in 2012, he's managed to build a community of podcasters called Podcasters' Paradise, publish a book, and create his first physical product, The Freedom Journal.
He continues to help people accomplish their big ideas by offering free training on his website, as well as two new journals geared toward podcast creation and productivity mastery.
Listen in as he and Josh discuss:
How he became the 3rd most funded publishing campaign in the history of Kickstarter✔ How he became the 3rd most funded publishing campaign in the history of Kickstarter
✔ Why John still calls people on the phone
✔ The best way for engaging customer response
✔ The thing everyone does wrong with funnels
✔ The biggest challenge in building a team
✔ What being an officer in the Army taught him about entrepreneurship
 and much more…
=== ABOUT Josh Felber ===
As a High-Performance Coach and Start-Up Advisor, I help business owners, entrepreneurs, & millennials understand where you can grow your business with fast proven results to obtain wealth and find freedom. 
A serial entrepreneur with 28+ years of starting and growing multiple multi-million dollar companies (including one with $5 Billion annual revenues), I've been:
• 2x Best-Selling Author as a co-author with Steve Forbes & Brian Tracy
• Voted the Best Personal Finance Expert in 2014 (National GOBankingRates competition)
• A contributor to articles on Entrepreneur.com, Inc.com, & Forbes.com
• Recognized multiple times in the National Who's Who of Entrepreneurs
• Expert guest on NBC, CBS, ABC, and FOX
• Keynote Speaker
• Host of Making Bank TV Show
I've helped my clients achieve:
• Business growth from 6 to 7 figures & doubled revenues in as short as 6 months
• Sales growth in 25% within 3 months using online and digital marketing
• Go from 0 to $30 Million company valuation in 9 years
Get daily Success Tips on FB: www.FB.com/JoshFelber10x 
Meet Josh at his WEBSITE: bit.ly/JoshFelber 
Read Josh's BLOG on: bit.ly/JoshF_BLOG 
Follow Josh on TWITTER: bit.ly/JoshF_TWITTER 
Follow Josh on LINKEDIN: bit.ly/JoshF_LINKEDIN