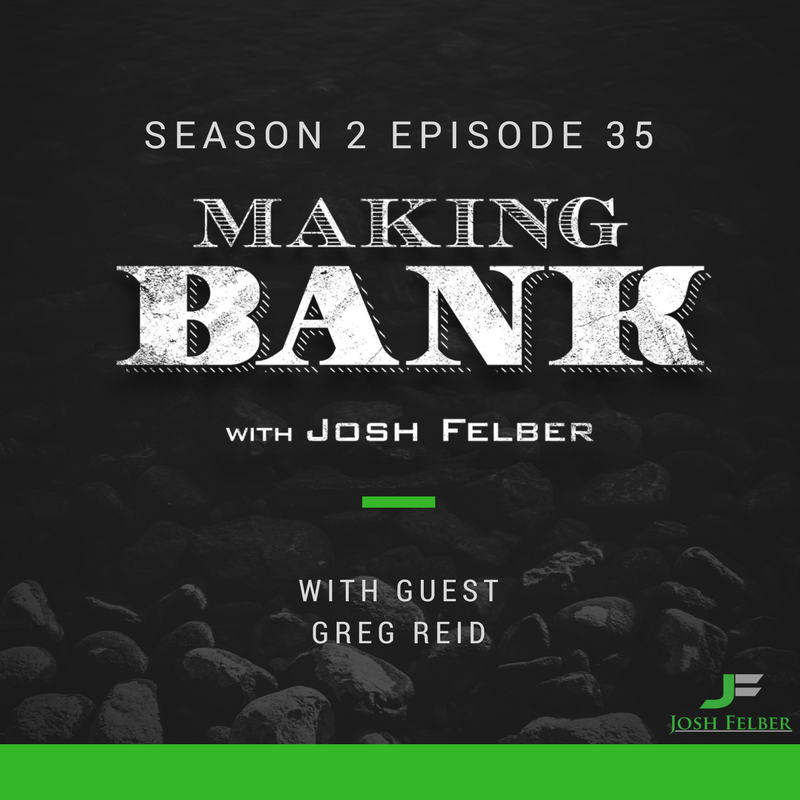 MAKING BANK is now a weekly YouTube TV show / iTunes Podcast full of #Success and #Business with Josh. 
Subscribe to the Podcast MP3: http://bit.ly/TumblrSubscribe
Subscribe to iTunes: http://bit.ly/JoshF_Itunes
SUBSCRIBE for weekly episodes and bonuses: http://bit.ly/JoshFSubscribe 
=== SUMMARY ===
Opinions are a lot like caffeine—taken in the right dose, they can perk you up, help you focus, and motivate you to achieve any number of objectives and goals. But—if consumed to excess—they can also leave you feeling nervous, anxious, and completely unsure of what to do next.
Too often we are guilty of seeking out and relying upon the opinions of others to move us forward in our day-to-day lives. The reality is, we shouldn't be seeking opinions at all—only counsel.
Counsel is the catalyst for rapid growth and massive achievement. Counsel is what the world's most successful entrepreneurs and philanthropists use on a daily basis.
So, what's the difference?
Stated simply, opinion is rooted in ignorance, lack of knowledge, and emotion, whereas counsel is based on experience, wisdom, knowledge, leadership.
Today on Making Bank, host Josh Felber invites Greg Reid to offer—not opinions—but sage counsel rooted in years and years of experience working with the world's most accomplished people.
For those unfamiliar with Greg, he's a natural entrepreneur, who started a super-successful advertising agency that he later sold for a handsome profit at the age of 30. Since getting out of the nine-to-five business, he's transformed himself into an author and speaker who's been everywhere from the Pentagon to the United Nations to discuss perseverance, success, adaptability, and what it takes to transform an idea into a reality.
By his own admission, the key to Greg's success has been application—he capitalizes on the wealth of wisdom available through books and applies that wisdom with his own spin. He seeks the insights and the counsel of those who've already achieved that which he wants, and then disseminates that information in his own voice and with his own perspective.
That's it.
Get ready to hear Greg and Josh share a wealth of mind-tingling insights that include...
The power of "seeking it"
Why you only attract what you are
The difference between "stickability" and flexibility
Why having a positive mental attitude doesn't involve running away from reality
How to choose the right people to surround yourself with so you can achieve the success you seek
When to know if the thing—the job, the house, the career, etc.— you're desperately holding on to is really the thing that's been holding you back
And more...
=== ABOUT Josh Felber ===
As a High Performance Coach and Start-Up Advisor, I help business owners, entrepreneurs, & millennials understand where you can grow your business with fast proven results to obtain wealth and find freedom. 
A serial entrepreneur with 28+ years of starting and growing multiple multi-million dollar companies (including one with $5 Billion annual revenues), I've been:
2x Best-Selling Author as a co-author with Steve Forbes & Brian Tracy
Voted the Best Personal Finance Expert in 2014 (National GOBankingRates competition)
A contributor to articles on Entrepreneur.com, Inc.com, & Forbes.com
Recognized multiple times in the National Who's Who of Entrepreneurs
Expert guest on NBC, CBS, ABC, and FOX
Keynote Speaker
Host of Making Bank TV Show
I've helped my clients achieve:
Business growth from 6 to 7 figures & doubled revenues in as short as 6 months
Sales growth in 25% within 3 months using online and digital marketing
Go from 0 to $30 Million company valuation in 9 years
Get daily Success Tips on FB: http://www.FB.com/JoshFelber10x 
Meet Josh at his WEBSITE: bit.ly/JoshFelber 
Read Josh's BLOG on: http://bit.ly/JoshF_BLOG 
Follow Josh on TWITTER: http://bit.ly/JoshF_TWITTER 
Follow Josh on LINKEDIN: http://bit.ly/JoshF_LINKEDIN