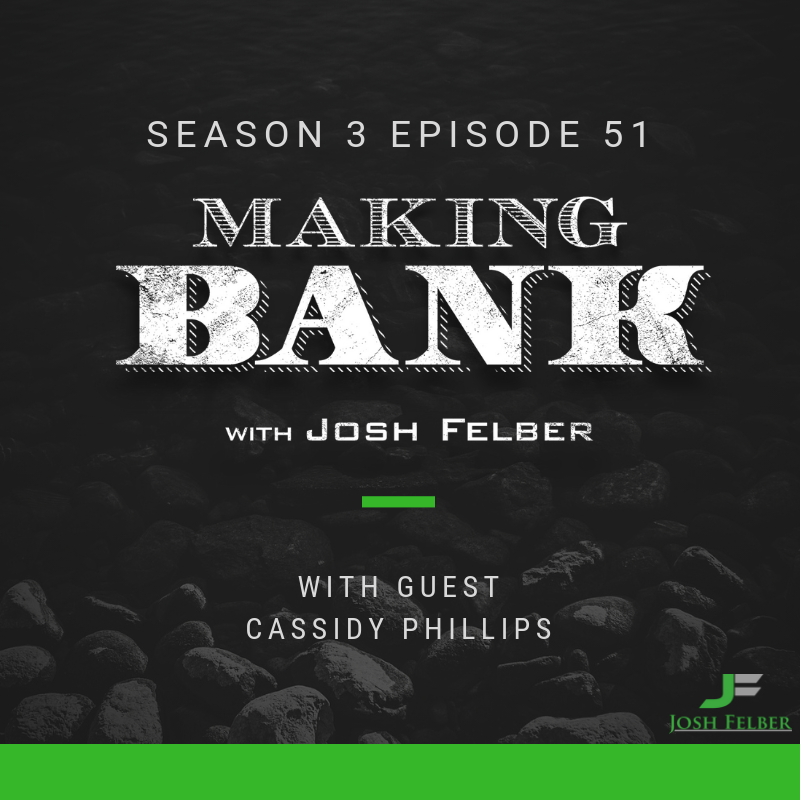 MAKING BANK is now a weekly YouTube TV show / iTunes Podcast full of #Success and #Business with Josh. 
Subscribe to the Podcast MP3: bit.ly/TumblrSubscribe
Subscribe to iTunes: bit.ly/JoshF_Itunes
SUBSCRIBE for weekly episodes and bonuses: bit.ly/JoshFSubscribe
=== SUMMARY ===
Cassidy Phillips is an entrepreneur, consultant, philanthropist and speaker that has dedicated his time to passionately pursuing a purpose driven life. With a background as an athlete and trainer that specialized in biomechanics, he created the revolutionary therapeutic company Trigger Point.
It is his goal to empower people in need of a greater quality of life, and he does that with a global brand that has reached over 80 countries and generated over $60 million in sales.
Today on #MakingBank he joins Josh to discuss failing big, being a part of a dot com in the early 2000s, and getting cut off from his family at 18.
As well as… 
✔ Why he didn't want to make the product that went on to be used by Lebron James, David Beckham, and Kobe Bryant.
✔ How his acting career informed his entrepreneurship
✔ The inception of Trigger Point
✔ How he knew it was time to hand over the reins with his company
✔ What every parental entrepreneur needs to understand
And much more…
=== ABOUT Josh Felber ===
As a High-Performance Coach and Start-Up Advisor, I help business owners, entrepreneurs, & millennials understand where you can grow your business with fast proven results to obtain wealth and find freedom. 
A serial entrepreneur with 28+ years of starting and growing multiple multi-million dollar companies (including one with $5 Billion annual revenues), I've been:
• 2x Best-Selling Author as a co-author with Steve Forbes & Brian Tracy
• Voted the Best Personal Finance Expert in 2014 (National GOBankingRates competition)
• A contributor to articles on Entrepreneur.com, Inc.com, & Forbes.com
• Recognized multiple times in the National Who's Who of Entrepreneurs
• Expert guest on NBC, CBS, ABC, and FOX
• Keynote Speaker
• Host of Making Bank TV Show
I've helped my clients achieve:
• Business growth from 6 to 7 figures & doubled revenues in as short as 6 months
• Sales growth in 25% within 3 months using online and digital marketing
• Go from 0 to $30 Million company valuation in 9 years
Get daily Success Tips on FB: www.FB.com/JoshFelber10x 
Meet Josh at his WEBSITE: bit.ly/JoshFelber 
Read Josh's BLOG on: bit.ly/JoshF_BLOG 
Follow Josh on TWITTER: bit.ly/JoshF_TWITTER 
Follow Josh on LINKEDIN: bit.ly/JoshF_LINKEDIN