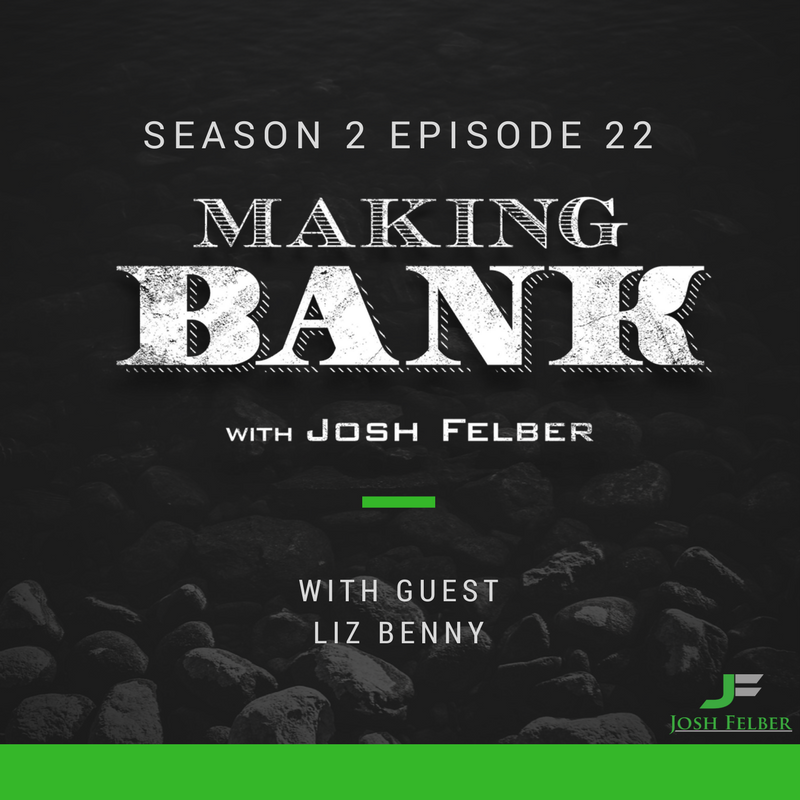 MAKING BANK is now a weekly YouTube TV show / iTunes Podcast full of #Success and #Business with Josh.
Subscribe to the Podcast MP3: http://bit.ly/TumblrSubscribe
Subscribe to iTunes: http://bit.ly/JoshF_Itunes
SUBSCRIBE for weekly episodes and bonuses: http://bit.ly/JoshFSubscribe
=== SUMMARY ===
Any entrepreneur can tell you about their moment.
The moment they looked in the mirror, and said to the exhausted face staring back at them, can I actually make it? Will I actually achieve the success I'm striving for or am I killing myself for nothing?
It is at this critical moment that we define ourselves as entrepreneurs.
It is at this critical moment that we tap into our inner-most belief—our unrelenting, unyielding belief in ourselves—to push through the pain, push past the doubt, and keep working towards our goal.
As entrepreneurs, our deep, unspoken belief in ourselves is what guides us on a day to day basis. It's what allows us to conduct business, and achieve the goals we set for ourselves.
No one knows this fact better than today's guest on Making Bank, Liz Benny.
Early in her entrepreneurial career, Liz didn't have a whole lot of self-belief. She had been homeless. Been defeated. And been discouraged about the future.
It wasn't until Liz started tapping into her belief in herself—wasn't until she started reminding herself that she could do anything—that she started making the strides that would lead her to where she is today.
And where is she?
Sitting at the head two businesses (Jinga Social and Social Monkey Business), generating seven-figures in revenue, and creating high-yielding online courses and digital resources that help other aspiring entrepreneurs achieve greatness in their own lives.
And while she still faces her fair share of entrepreneurial struggles on a daily basis, Liz continues to press forward, reminding herself with a little KAPOW-energy that she really does have the power to do anything she wants.
So tune-in to today's episode to hear Liz Benny and host Josh Felber discuss the power of the positive mindset, and an array of other topics, including...
✓ How to leverage passion to make life-altering change
✓ Why fostering the RIGHT mindset is indispensable for your business
✓ What you can do to effectively share the load and delegate tasks
✓ Why accountability partners are essential for your growth as an entrepreneur
✓ The difference between KNOWING and ACCEPTING yourself
✓ How the entrepreneurial journey is defined by both the highs AND the lows
And much, much more...
#MakingBank #JoshFelber #LizBenny
 === ABOUT Josh Felber ===
 As a High Performance Coach and Start-Up Advisor, I help business owners, entrepreneurs, & millennials understand where you can grow your business with fast proven results to obtain wealth and find freedom.
 A serial entrepreneur with 28+ years of starting and growing multiple multi-million dollar companies (including one with $5 Billion annual revenues), I've been:
 2x Best-Selling Author as a co-author with Steve Forbes & Brian Tracy
Voted the Best Personal Finance Expert in 2014 (National GOBankingRates competition)
A contributor to articles on Entrepreneur.com, Inc.com, & Forbes.com
Recognized multiple times in the National Who's Who of Entrepreneurs
Expert guest on NBC, CBS, ABC, and FOX
Keynote Speaker
Host of Making Bank TV Show
I've helped my clients achieve:
 Business growth from 6 to 7 figures & doubled revenues in as short as 6 months
Sales growth in 25% within 3 months using online and digital marketing
Go from 0 to $30 Million company valuation in 9 years
Get daily Success Tips on FB: http://www.FB.com/JoshFelber10x
 Meet Josh at his WEBSITE: bit.ly/JoshFelber
 Read Josh's BLOG on: http://bit.ly/JoshF_BLOG
 Follow Josh on TWITTER: http://bit.ly/JoshF_TWITTER
 Follow Josh on LINKEDIN: http://bit.ly/JoshF_LINKEDIN