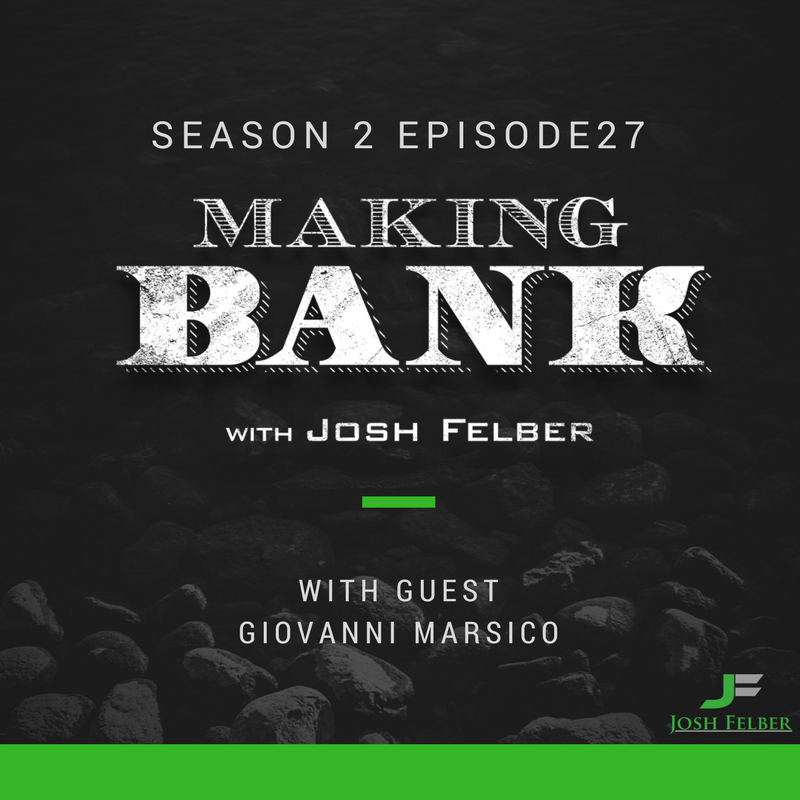 MAKING BANK is now a weekly YouTube TV show / iTunes Podcast full of #Success and #Business with Josh.
Subscribe to the Podcast MP3: http://bit.ly/TumblrSubscribe
Subscribe to iTunes: http://bit.ly/JoshF_Itunes
SUBSCRIBE for weekly episodes and bonuses: http://bit.ly/JoshFSubscribe
=== SUMMARY ===
"Alignment" isn't a concept you probably think about on a day-to-day basis, but it's definitely an idea that's worth considering.
 The more aligned you are—the more in-tune you are with your path, your purpose, and your truth—the more capable you are of achieving your goals and your dreams.
 Your moonshots.
 Those objectives that—for one reason or another—always seem mired between outright impossible and just out of reach.
 And as an entrepreneur, it's the moonshots you seek. It's the reason you were never content working the nine-to-five, and the reason you struck out on your own to do something utterly incredible. Something that's as profitable as it is memorable, and as beneficial for you as it is beneficial for the world at large.
 Moonshots aren't what make successful entrepreneurs, they're what successful entrepreneurs accomplish after they've achieved alignment.
Today on Making Bank, host Josh Felber invites aligned entrepreneur and fellow moonshot-taker, Giovanni Marsico onto the show.
 As the founder and director of Archangel Academy, Giovanni spends his days connecting big-hearted entrepreneurs looking to make the world a better place through a combination of philanthropy and purpose-driven entrepreneurship.
 Prior to launching the Academy, Giovanni owned a super-successful real estate career in his hometown of a Toronto—a career he has since abandoned entirely to improve his alignment—selling pre-construction condominium units.
 Tune in-to hear Giovanni explain how and why he pivoted away from a lucrative career to pursue something that extended beyond his own self-interest, as well as... 
How you can not only discover your gifts but also who you can serve with those gifts.
Why your purpose is the path itself, not the destination.
The importance of helping yourself before helping others.
What happens when you align those with particular skills with those who have particular passions.
The art of "rejection marketing".
Why moonshots can't be defined, let alone achieved, until you find your alignment.
 And more...
=== ABOUT Josh Felber ===
As a High Performance Coach and Start-Up Advisor, I help business owners, entrepreneurs, & millennials understand where you can grow your business with fast proven results to obtain wealth and find freedom.
A serial entrepreneur with 28+ years of starting and growing multiple multi-million dollar companies (including one with $5 Billion annual revenues), I've been:
2x Best-Selling Author as a co-author with Steve Forbes & Brian Tracy
Voted the Best Personal Finance Expert in 2014 (National GOBankingRates competition)
A contributor to articles on Entrepreneur.com, Inc.com, & Forbes.com
Recognized multiple times in the National Who's Who of Entrepreneurs
Expert guest on NBC, CBS, ABC, and FOX
Keynote Speaker
Host of Making Bank TV Show
I've helped my clients achieve:
 Business growth from 6 to 7 figures & doubled revenues in as short as 6 months
Sales growth in 25% within 3 months using online and digital marketing
Go from 0 to $30 Million company valuation in 9 years
Get daily Success Tips on FB: http://www.FB.com/JoshFelber10x
 Meet Josh at his WEBSITE: bit.ly/JoshFelber
 Read Josh's BLOG on: http://bit.ly/JoshF_BLOG
 Follow Josh on TWITTER: http://bit.ly/JoshF_TWITTER
 Follow Josh on LINKEDIN: http://bit.ly/JoshF_LINKEDIN