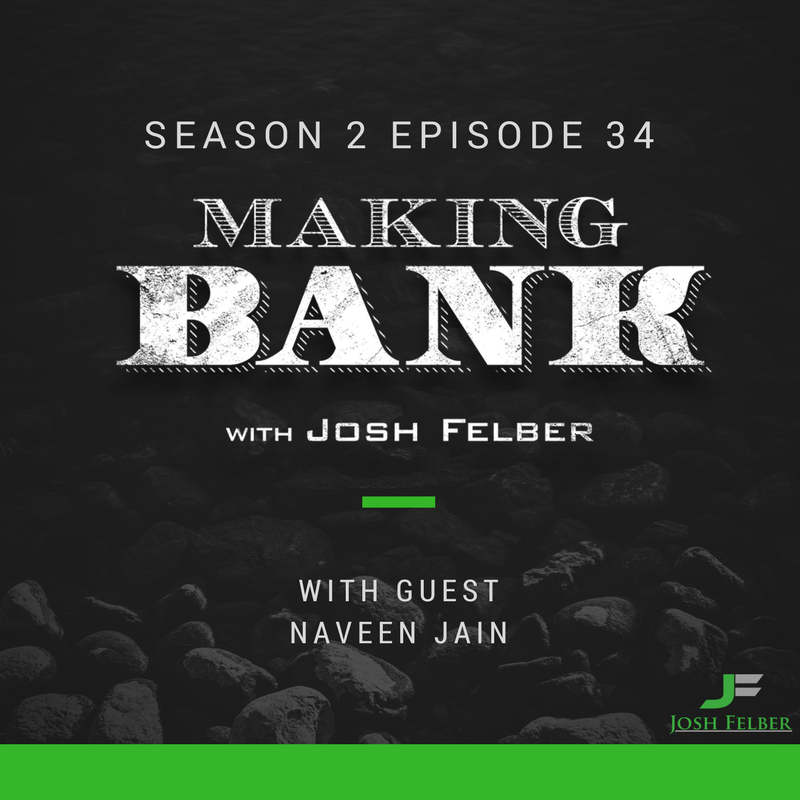 MAKING BANK is now a weekly YouTube TV show / iTunes Podcast full of #Success and #Business with Josh. 
Subscribe to the Podcast MP3: http://bit.ly/TumblrSubscribe
Subscribe to iTunes: http://bit.ly/JoshF_Itunes
SUBSCRIBE for weekly episodes and bonuses: http://bit.ly/JoshFSubscribe 
=== SUMMARY ===
What if someone were to tell you the healthcare system was designed to make you sick? That patient preservation wasn't the #1 priority of the healthcare system, but the preservation of the insurance companies, the hospitals, and the regulatory bodies was instead? 
What if someone were to tell you that the education system was no longer interested in educating you or your children, because it was more interested in preserving itself and its wealth? In keeping Department of Education leaders well-paid, and school administrators' pockets lined? 
Would you dismiss those comments out of hand, and call them "crazy"? Or would you sit quietly and ask to learn more? 
That's the decision you'll have to make when you sit down to hear host Josh Felber interview today's Making Bank guest, Naveen Jain. 
Healthcare and education are two of many established industries Naveen isn't afraid to speak critically of or disrupt. A successful entrepreneur who grew up in an incredibly impoverished family outside of New Delhi in Uttar Pradesh, India, Naveen knows staying silent is not the way to climb to the top.
 Several of his innovations were vital to the success of Microsoft's Windows 95 platform, and he used his accomplishments at the company as a springboard for a successful entrepreneurial career. To date, he's launched Moon Express, World Innovation Institute, iNome, TalentWise, Intelius, and Infospace—all companies designed to solve the world's challenges through innovation.
 Sit-down and strap-in for this exciting, almost hour-long interview where Josh and Naveen discuss touch on a variety of interesting ideas, including...
What it takes to transform big dreams into real action
How massive cultural change can be spurred through technology and vice versa
Why it's so important to encourage people to chase the impossible
The difference between showing your children love and pride
Why money is the most important thing a socially-conscious entrepreneur can earn
 And more...
=== ABOUT Josh Felber ===
As a High Performance Coach and Start-Up Advisor, I help business owners, entrepreneurs, & millennials understand where you can grow your business with fast proven results to obtain wealth and find freedom. 
A serial entrepreneur with 28+ years of starting and growing multiple multi-million dollar companies (including one with $5 Billion annual revenues), I've been:
2x Best-Selling Author as a co-author with Steve Forbes & Brian Tracy
Voted the Best Personal Finance Expert in 2014 (National GOBankingRates competition)
A contributor to articles on Entrepreneur.com, Inc.com, & Forbes.com
Recognized multiple times in the National Who's Who of Entrepreneurs
Expert guest on NBC, CBS, ABC, and FOX
Keynote Speaker
Host of Making Bank TV Show
I've helped my clients achieve:
Business growth from 6 to 7 figures & doubled revenues in as short as 6 months
Sales growth in 25% within 3 months using online and digital marketing
Go from 0 to $30 Million company valuation in 9 years
Get daily Success Tips on FB: http://www.FB.com/JoshFelber10x 
Meet Josh at his WEBSITE: bit.ly/JoshFelber 
Read Josh's BLOG on: http://bit.ly/JoshF_BLOG 
Follow Josh on TWITTER: http://bit.ly/JoshF_TWITTER 
Follow Josh on LINKEDIN: http://bit.ly/JoshF_LINKEDIN