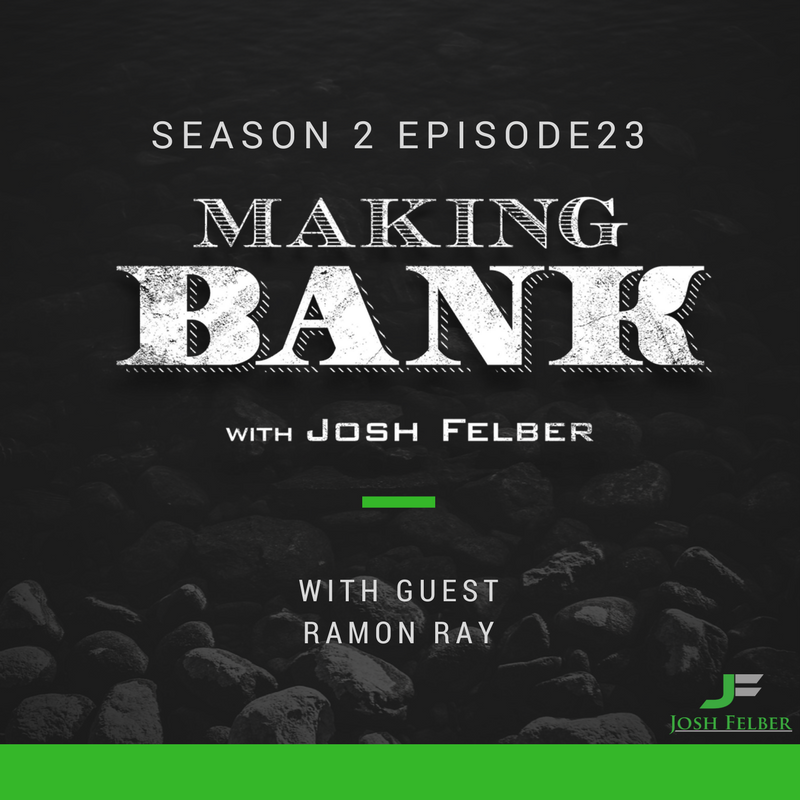 MAKING BANK is now a weekly YouTube TV show / iTunes Podcast full of #Success and #Business with Josh.
Subscribe to the Podcast MP3: http://bit.ly/TumblrSubscribe
Subscribe to iTunes: http://bit.ly/JoshF_Itunes
SUBSCRIBE for weekly episodes and bonuses: http://bit.ly/JoshFSubscribe
=== SUMMARY ===
For many aspiring entrepreneurs, the question isn't "do I want to leave my day job?", the question is, "when do I leave my day job?"
 "How do I leave my day job?" "What will happen to my family if I leave my day job?" "How will I pay rent, buy groceries, and avoid going broke if I leave my day job?"
 Whether you're making $100,000 a year or $50,000 year, the idea of saying "I quit" to chase a dream can feel like an impossible challenge, but it's a challenge you must overcome be it by strength or fortune if you want to become an entrepreneur.
And few people know the fears and doubts of addressing that challenge as well as today's guest on Making Bank, Ramon Ray.
 Ramon once spent his days toiling away in the confines of a cubicle, working a comfortable but ultimately unfulfilling day job at the United Nations. Although he had long thought about making the leap to life as a full-time entrepreneur, the idea of leaving his steady job was both unnerving and unsettling. It wasn't until his "contract wasn't renewed" (UN-speak for "you're fired") that he finally took the plunge. 
Today, Ramon is the proud founder of four different companies, a sought-after public speaker, and a best-selling author.
 His latest hustle, Smart Hustle Magazine, "is a community of small business owners with an entrepreneurial mindset" that shares the challenges, victories, and hustles of life as a budding entrepreneur and small business owner.
 Tune-in to this episode to hear Ramon and Josh discuss what it takes to build a truly thriving company, as well as... 
How to go from Zero to 60
Why the money is in content
What it means to scale and how to learn about it
How to break through early entrepreneurial challenges
Why a business built on a passion is always a smart idea
and much, much more...
#MakingBank #JoshFelber #RamonRay
 === ABOUT Josh Felber ===
 As a High Performance Coach and Start-Up Advisor, I help business owners, entrepreneurs, & millennials understand where you can grow your business with fast proven results to obtain wealth and find freedom.
 A serial entrepreneur with 28+ years of starting and growing multiple multi-million dollar companies (including one with $5 Billion annual revenues), I've been:
 2x Best-Selling Author as a co-author with Steve Forbes & Brian Tracy
Voted the Best Personal Finance Expert in 2014 (National GOBankingRates competition)
A contributor to articles on Entrepreneur.com, Inc.com, & Forbes.com
Recognized multiple times in the National Who's Who of Entrepreneurs
Expert guest on NBC, CBS, ABC, and FOX
Keynote Speaker
Host of Making Bank TV Show
I've helped my clients achieve:
 Business growth from 6 to 7 figures & doubled revenues in as short as 6 months
Sales growth in 25% within 3 months using online and digital marketing
Go from 0 to $30 Million company valuation in 9 years
Get daily Success Tips on FB: http://www.FB.com/JoshFelber10x
 Meet Josh at his WEBSITE: bit.ly/JoshFelber
 Read Josh's BLOG on: http://bit.ly/JoshF_BLOG
 Follow Josh on TWITTER: http://bit.ly/JoshF_TWITTER
 Follow Josh on LINKEDIN: http://bit.ly/JoshF_LINKEDIN