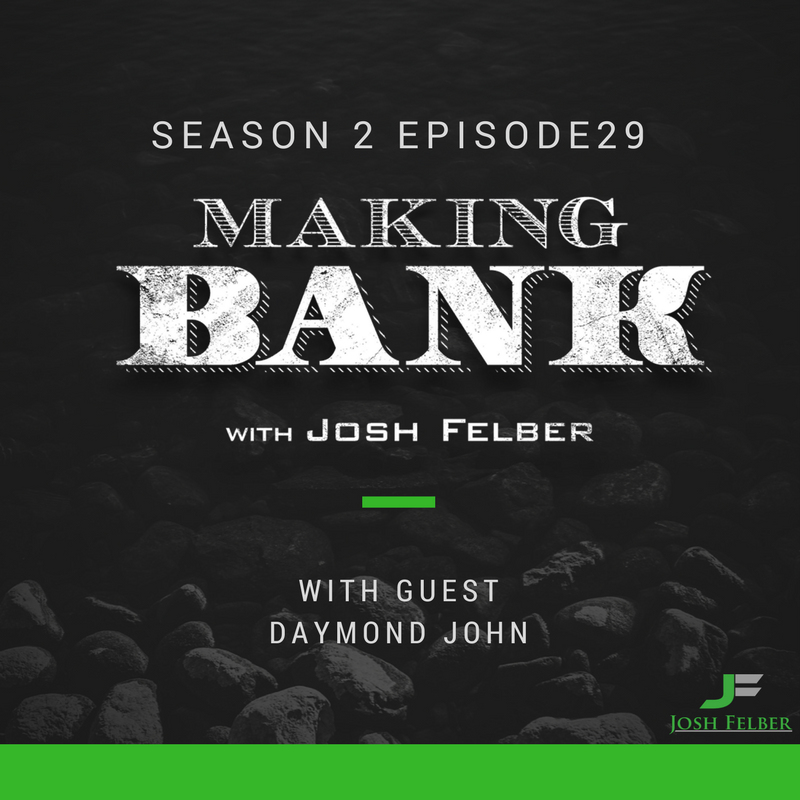 MAKING BANK is now a weekly YouTube TV show / iTunes Podcast full of #Success and #Business with Josh.
Subscribe to the Podcast MP3: http://bit.ly/TumblrSubscribe
Subscribe to iTunes: http://bit.ly/JoshF_Itunes
SUBSCRIBE for weekly episodes and bonuses: http://bit.ly/JoshFSubscribe
=== SUMMARY ===
The Achilles heel of many entrepreneurs is the simple (and horribly misguided) thought that there are only one or two steps separating them and their ideas from success. 
The reality is success can't be achieved by clearing one or two hurdles because the race to the top isn't like a 110-meter sprint—it's like a marathon, with hundreds of steps to take and an endless sea of obstacles to clear. 
And even for those entrepreneurs hard-nosed enough to actually find what they're looking for in terms of success, it's a vicious, day-in, day-out fight to hold onto it. 
Having said that, there is one thing every entrepreneur can do to make the road to the top a little easier... 
...Stay close to the customer.
Why? because the customer is the one who hands over their hard-earned dollars and cents in exchange for your products, your services, and your ideas. The customer is the one that keeps your doors open, your lights on, and your employees paid. If you're not clued in to what they're looking for, and not giving them what they're asking for, your business is as good as dead.
These are the immensely wise words of today's guest, Daymond John, who sits down with host Josh Felber for his second Making Bank interview.
Born into the rough and tumble neighborhood of Hollis, Queens, New York, Daymond is no stranger to being hard-nosed and clearing seemingly insurmountable hurdles in pursuit of a dream. Today, he is known as the CEO of FUBU, an investor on the reality TV series Shark Tank, and a highly sought after consultant and speaker.
 Tune-in to hear Josh and Daymond discuss... 
Why your health is a today issue as opposed to a tomorrow ..
What it takes to face and overcome self-doubt...
Why self-reflection is one of the most valuable ways to spend your time...
How to position yourself so you're one-step away from the money...
Why the people in your company are as important if not more important than the numbers...
And more...
=== ABOUT Josh Felber ===
As a High Performance Coach and Start-Up Advisor, I help business owners, entrepreneurs, & millennials understand where you can grow your business with fast proven results to obtain wealth and find freedom.
A serial entrepreneur with 28+ years of starting and growing multiple multi-million dollar companies (including one with $5 Billion annual revenues), I've been:
2x Best-Selling Author as a co-author with Steve Forbes & Brian Tracy
Voted the Best Personal Finance Expert in 2014 (National GOBankingRates competition)
A contributor to articles on Entrepreneur.com, Inc.com, & Forbes.com
Recognized multiple times in the National Who's Who of Entrepreneurs
Expert guest on NBC, CBS, ABC, and FOX
Keynote Speaker
Host of Making Bank TV Show
I've helped my clients achieve:
 Business growth from 6 to 7 figures & doubled revenues in as short as 6 months
Sales growth in 25% within 3 months using online and digital marketing
Go from 0 to $30 Million company valuation in 9 years
Get daily Success Tips on FB: http://www.FB.com/JoshFelber10x
 Meet Josh at his WEBSITE: bit.ly/JoshFelber
 Read Josh's BLOG on: http://bit.ly/JoshF_BLOG
 Follow Josh on TWITTER: http://bit.ly/JoshF_TWITTER
 Follow Josh on LINKEDIN: http://bit.ly/JoshF_LINKEDIN