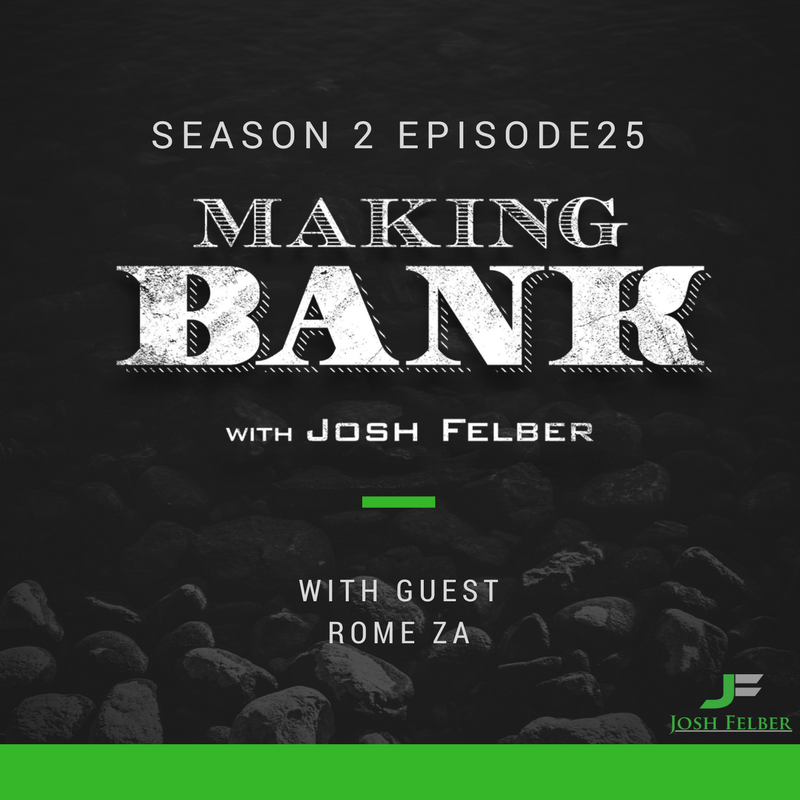 MAKING BANK is now a weekly YouTube TV show / iTunes Podcast full of #Success and #Business with Josh.
Subscribe to the Podcast MP3: http://bit.ly/TumblrSubscribe
Subscribe to iTunes: http://bit.ly/JoshF_Itunes
SUBSCRIBE for weekly episodes and bonuses: http://bit.ly/JoshFSubscribe
=== SUMMARY ===
What would you do if you woke up one day and realized you were on the wrong path? 
Would you keep walking that road, or would you commit to making a change? 
How would two years of time and six-figures of debt influence your decision? 
Those are the questions that today's guest on Making Bank, Rome Za, had to answer for himself when he came to the stark realization he didn't want to finish his tertiary education and become a nurse. 
Rather than do the "smart thing"—finish his degree and get out of debt—Rome did the "honest thing": 
He quit nursing school just two units short of his degree, borrowed a bunch of money, and went into "crazy debt" to open up a martial arts academy in Brooklyn, New York. 
Opening that academy turned out to be the smartest decision Rome could have made, and the business easily cleared six-figures in its first year of operation. 
Though he no longer runs the academy, Rome still continues to help people with their personal development, be it mental, physical, or spiritual. Specifically, Rome spends his days helping A-type personalities and other successful entrepreneurs get rid of unwanted stress and tap into their true potential.
So, listen-up to hear Josh ask Rome about helping high-performers get rid of their unwanted stress, and...
Life in pre-Giuliani Brooklyn
Why entrepreneurs need coaching
What it means to find The Warrior Within
Making the decision to quit school and "go for it"
What makes helping people such a powerful exercise 
And much, much more...
#MakingBank #JoshFelber #RomeZa #AwakentheWarriorWithin
 === ABOUT Josh Felber ===
As a High Performance Coach and Start-Up Advisor, I help business owners, entrepreneurs, & millennials understand where you can grow your business with fast proven results to obtain wealth and find freedom.
A serial entrepreneur with 28+ years of starting and growing multiple multi-million dollar companies (including one with $5 Billion annual revenues), I've been:
2x Best-Selling Author as a co-author with Steve Forbes & Brian Tracy
Voted the Best Personal Finance Expert in 2014 (National GOBankingRates competition)
A contributor to articles on Entrepreneur.com, Inc.com, & Forbes.com
Recognized multiple times in the National Who's Who of Entrepreneurs
Expert guest on NBC, CBS, ABC, and FOX
Keynote Speaker
Host of Making Bank TV Show
I've helped my clients achieve:
 Business growth from 6 to 7 figures & doubled revenues in as short as 6 months
Sales growth in 25% within 3 months using online and digital marketing
Go from 0 to $30 Million company valuation in 9 years
Get daily Success Tips on FB: http://www.FB.com/JoshFelber10x
 Meet Josh at his WEBSITE: bit.ly/JoshFelber
 Read Josh's BLOG on: http://bit.ly/JoshF_BLOG
 Follow Josh on TWITTER: http://bit.ly/JoshF_TWITTER
 Follow Josh on LINKEDIN: http://bit.ly/JoshF_LINKEDIN