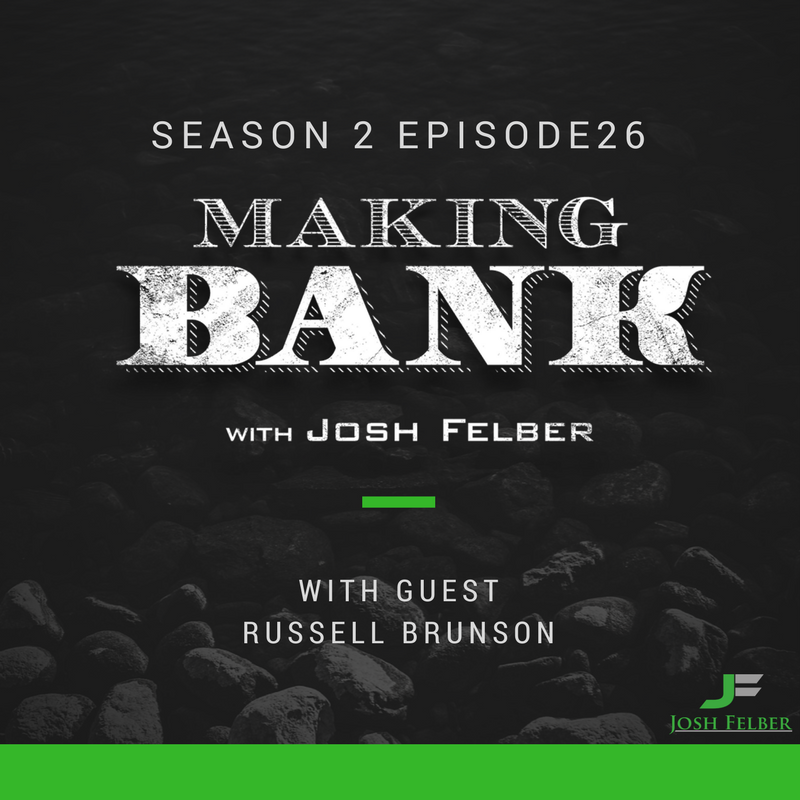 MAKING BANK is now a weekly YouTube TV show / iTunes Podcast full of #Success and #Business with Josh.
Subscribe to the Podcast MP3: http://bit.ly/TumblrSubscribe
Subscribe to iTunes: http://bit.ly/JoshF_Itunes
SUBSCRIBE for weekly episodes and bonuses: http://bit.ly/JoshFSubscribe
=== SUMMARY ===
This week on Making Bank, we're bringing back a guest who needs no elaborate introduction—Russell Brunson of Click Funnels fame.
(For those of you who are unfamiliar with Russell, check out Josh's first interview with him here on Advisor TV).
 More than anything, today's Making Bank episode is a check-in between Josh and Russell. A chance for Josh to ask Russell about the tsunami of success he's enjoyed since releasing his best-selling book, Dot-Com Secrets, and the inspiration for his new book, Expert Secrets.
 If Dot-Com Secrets was the science behind Russell's entrepreneurial success, then Expert Secrets is the art. It is an unabridged journey into how Russell makes his businesses work, and how he communicates his value to consumers.
 So, listen-up to hear Josh and Russell discuss the inspiration behind Expert Secrets, as well as...
How to position any new opportunity...
The three foundations of a mass movement...
False beliefs and the art of invalidating them...
The initial motivation and idea for Click Funnels...
The difference between selling improvement and selling inspiration...
Why the "Attractive Character" is absolutely essential to your success...
 And more...
=== ABOUT Josh Felber ===
As a High Performance Coach and Start-Up Advisor, I help business owners, entrepreneurs, & millennials understand where you can grow your business with fast proven results to obtain wealth and find freedom.
A serial entrepreneur with 28+ years of starting and growing multiple multi-million dollar companies (including one with $5 Billion annual revenues), I've been:
2x Best-Selling Author as a co-author with Steve Forbes & Brian Tracy
Voted the Best Personal Finance Expert in 2014 (National GOBankingRates competition)
A contributor to articles on Entrepreneur.com, Inc.com, & Forbes.com
Recognized multiple times in the National Who's Who of Entrepreneurs
Expert guest on NBC, CBS, ABC, and FOX
Keynote Speaker
Host of Making Bank TV Show
I've helped my clients achieve:
 Business growth from 6 to 7 figures & doubled revenues in as short as 6 months
Sales growth in 25% within 3 months using online and digital marketing
Go from 0 to $30 Million company valuation in 9 years
Get daily Success Tips on FB: http://www.FB.com/JoshFelber10x
 Meet Josh at his WEBSITE: bit.ly/JoshFelber
 Read Josh's BLOG on: http://bit.ly/JoshF_BLOG
 Follow Josh on TWITTER: http://bit.ly/JoshF_TWITTER
 Follow Josh on LINKEDIN: http://bit.ly/JoshF_LINKEDIN