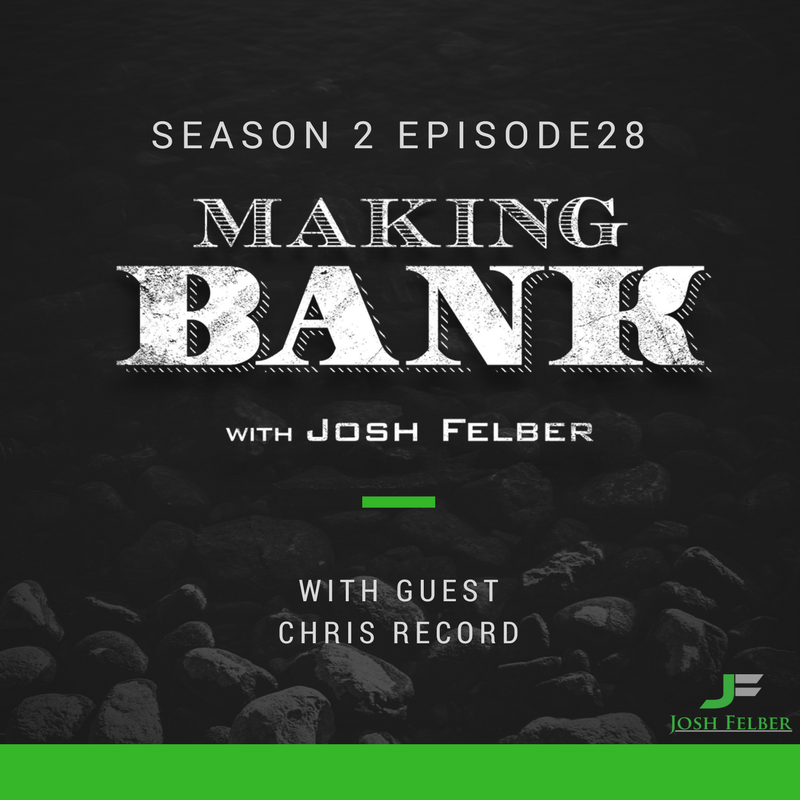 MAKING BANK is now a weekly YouTube TV show / iTunes Podcast full of #Success and #Business with Josh.
Subscribe to the Podcast MP3: http://bit.ly/TumblrSubscribe
Subscribe to iTunes: http://bit.ly/JoshF_Itunes
SUBSCRIBE for weekly episodes and bonuses: http://bit.ly/JoshFSubscribe
=== SUMMARY ===
Every entrepreneur faces obstacles.
Some of those obstacles are big, other small, but all impede.
Obstacles keep entrepreneurs from getting that which they want most—success.
But what if, instead of looking at obstacles as roadblocks designed to slow you down from realizing your hopes and dreams, you started looking at obstacles as the building blocks upon which entrepreneurial success is constructed?
Rather than viewing hurdles as hindrances, what if you started looking at those hurdles as your education...
Your training...
The way in which you better yourself each and every day so that—one day—you can actually achieve the level of success you've long been searching for?
Creating this kind of mindset shift isn't easy, but it's transformative, and if you can pull it off, the sky's the limit for what you can accomplish in your life.
Doubt it?
Then you should listen to today's episode of Making Bank with guest Chris Record of Techademics, a company that bridges the gap between the seminar industry and higher education.
Today, Chris is generating millions of dollars in revenue every year, but his life hasn't always been so lavish.
Growing up in a broken home, living off food stamps in section-8 housing, and dropping out of high school in the 9th grade, Chris knows what it's like to grow up on the other side of the tracks. But rather than use his crushing poverty, familial discord, and lack of education as excuses—as obstacles too big to overcome—Chris used those challenges to make himself stronger and more resilient.
So, get ready to hear Chris tell his compelling story to host Josh Felber, and explain why... 
Saying How Can I? is far more powerful than saying I can't.
Massive action is the duct tape and WD-40 of life.
Personal development is the smartest investment you can ever make.
You don't have an excuse to NOT have multiple income streams.
Life is the world's best educator
 And more...
=== ABOUT Josh Felber ===
As a High Performance Coach and Start-Up Advisor, I help business owners, entrepreneurs, & millennials understand where you can grow your business with fast proven results to obtain wealth and find freedom.
A serial entrepreneur with 28+ years of starting and growing multiple multi-million dollar companies (including one with $5 Billion annual revenues), I've been:
2x Best-Selling Author as a co-author with Steve Forbes & Brian Tracy
Voted the Best Personal Finance Expert in 2014 (National GOBankingRates competition)
A contributor to articles on Entrepreneur.com, Inc.com, & Forbes.com
Recognized multiple times in the National Who's Who of Entrepreneurs
Expert guest on NBC, CBS, ABC, and FOX
Keynote Speaker
Host of Making Bank TV Show
I've helped my clients achieve:
 Business growth from 6 to 7 figures & doubled revenues in as short as 6 months
Sales growth in 25% within 3 months using online and digital marketing
Go from 0 to $30 Million company valuation in 9 years
Get daily Success Tips on FB: http://www.FB.com/JoshFelber10x
 Meet Josh at his WEBSITE: bit.ly/JoshFelber
 Read Josh's BLOG on: http://bit.ly/JoshF_BLOG
 Follow Josh on TWITTER: http://bit.ly/JoshF_TWITTER
 Follow Josh on LINKEDIN: http://bit.ly/JoshF_LINKEDIN