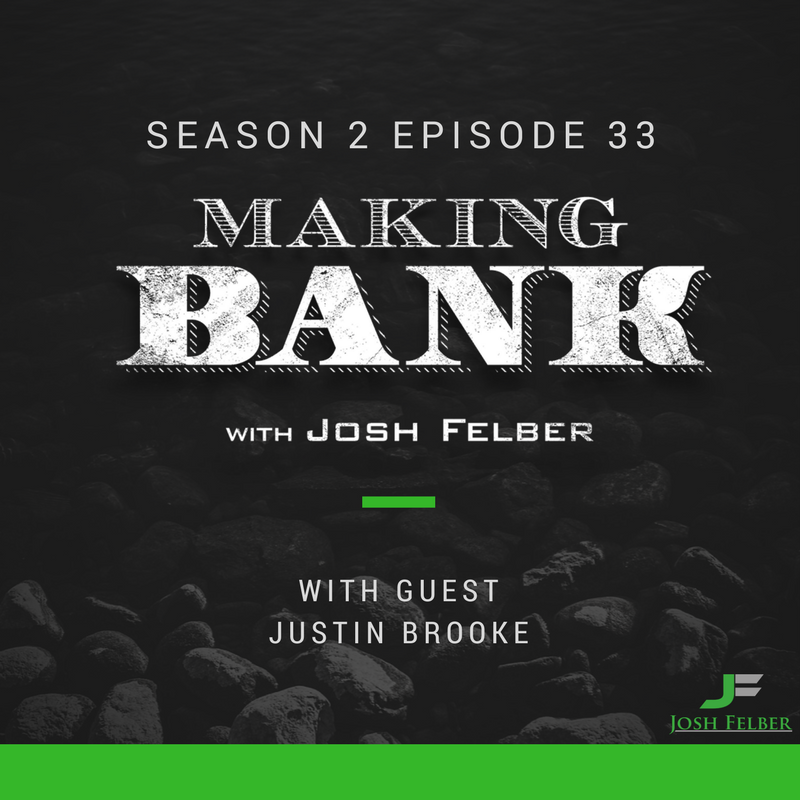 MAKING BANK is now a weekly YouTube TV show / iTunes Podcast full of #Success and #Business with Josh. 
Subscribe to the Podcast MP3: http://bit.ly/TumblrSubscribe
Subscribe to iTunes: http://bit.ly/JoshF_Itunes
SUBSCRIBE for weekly episodes and bonuses: http://bit.ly/JoshFSubscribe 
=== SUMMARY ===
The internet is awash in self-proclaimed "digital media experts." Men and women who, without a moment's hesitation, will profess to being "the unquestioned authority" when it comes to all things digital, including ad buying. 
But the stark reality is that only a select few of these "digital media experts" are actually knowledgeable when it comes to the science of ad buying. 
And that's what makes today's guest on Making Bank so special—he's a legitimate ad buying genius. A man who started building his digital media knowledge under the direct tutelage of Russell Brunson in 2007, before graduating to his own career and his own business. 
His name? 
Justin Brooke, the man who used paid ad-traffic to take himself from ramen to Maine lobster. 
With just $60 in his pocket—literally half of his monthly electric bill—Justin started a $2 a day AdWords campaign in 2008, and used the campaign to double his money. Justin continued to double the money he put into AdWords for 11 months in a row, and by 2009 he had created a six-figure income.
Today, Justin runs company called DMBIOnline, a highly sought after 7-figure a digital ad agency, and runs the Digital Media Buying Institute where he offers 12-courses designed to help aspiring media buyers learn the ins and outs of the trade.
Listen as Justin joins host Josh Felber to discuss all things digital media, including... 
The Traffic Crisis versus The Traffic Hail Mary
Why you can't buy the lottery with ad traffic
The immense and oft overlooked value of testing
Why $100 is all you need to set up a successful ad campaign
How to identify ad winners versus ad losers
 And more...
=== ABOUT Josh Felber ===
As a High Performance Coach and Start-Up Advisor, I help business owners, entrepreneurs, & millennials understand where you can grow your business with fast proven results to obtain wealth and find freedom. 
A serial entrepreneur with 28+ years of starting and growing multiple multi-million dollar companies (including one with $5 Billion annual revenues), I've been:
2x Best-Selling Author as a co-author with Steve Forbes & Brian Tracy
Voted the Best Personal Finance Expert in 2014 (National GOBankingRates competition)
A contributor to articles on Entrepreneur.com, Inc.com, & Forbes.com
Recognized multiple times in the National Who's Who of Entrepreneurs
Expert guest on NBC, CBS, ABC, and FOX
Keynote Speaker
Host of Making Bank TV Show
I've helped my clients achieve:
Business growth from 6 to 7 figures & doubled revenues in as short as 6 months
Sales growth in 25% within 3 months using online and digital marketing
Go from 0 to $30 Million company valuation in 9 years
Get daily Success Tips on FB: http://www.FB.com/JoshFelber10x 
Meet Josh at his WEBSITE: bit.ly/JoshFelber 
Read Josh's BLOG on: http://bit.ly/JoshF_BLOG 
Follow Josh on TWITTER: http://bit.ly/JoshF_TWITTER 
Follow Josh on LINKEDIN: http://bit.ly/JoshF_LINKEDIN