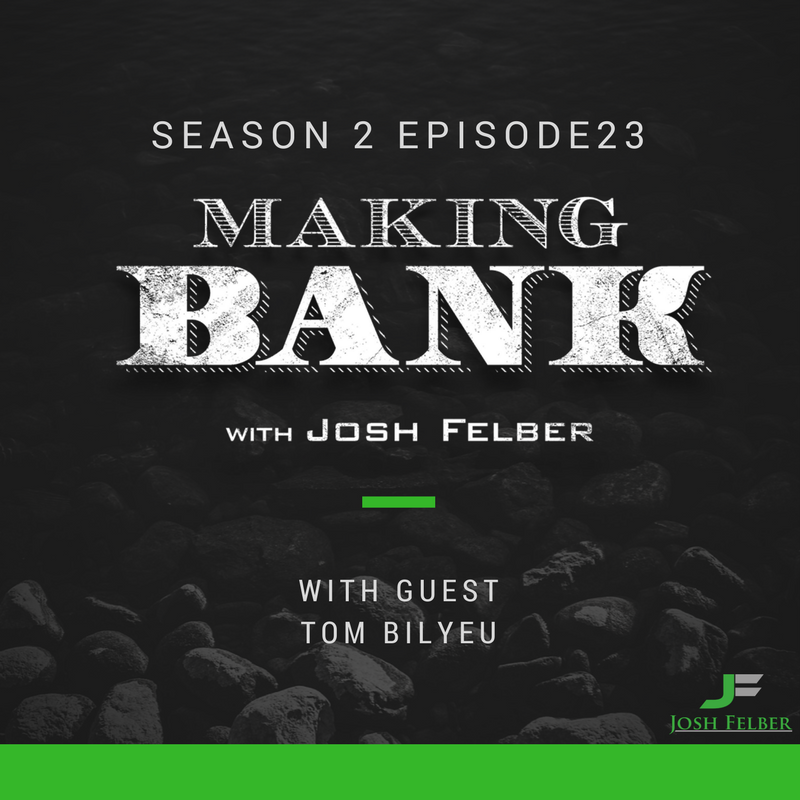 MAKING BANK is now a weekly YouTube TV show / iTunes Podcast full of #Success and #Business with Josh.
Subscribe to the Podcast MP3: http://bit.ly/TumblrSubscribe
Subscribe to iTunes: http://bit.ly/JoshF_Itunes
SUBSCRIBE for weekly episodes and bonuses: http://bit.ly/JoshFSubscribe
=== SUMMARY ===
In the realm of entrepreneurship, it's neither the strongest nor the smartest that survives—it's the most adaptive.
The entrepreneur who can see and adapt themselves to the incessant tides of change is worth more to the economy than the savviest graduate from Harvard Business School, or the world's most relentless cold-calling salesman.
But adaptability rarely gets the attention it deserves, often overshadowed by business pundits who want to write or speak about "getting smart" or "getting tough" as a means to achieving entrepreneurial ends.
That changes today.
Today, on Making Bank, host Josh Felber invites entrepreneur, fitness fanatic, and film-freak Tom Bilyeu to discuss the power of adaptability and self-belief.
As a child, Tom was obsessed with two arts that made him feel alive—comedy and film—and his passion was so all-consuming that he pursued a career in both for decades.
But as much as Tom loved his two arts, he knew needed a path to wealth as well.
So, what did Tom do?
He adapted.
He transformed his thinking. He shifted from a fixed-mindset to a growth-mindset, and in doing so, he started down a path that would lead to unimaginable wealth and success.
The company Tom started in 2010—along with co-founders Ron Penna and Mike Osborn—was called Quest Nutrition, and within three years it became the #2 on the Fastest Growing Company in America, according to INC Magazine.
Without his penchant for adaptation and his willingness to engage in a growth-mindset, Tom would have stuck with his career in film like a stubborn bulldog and missed his financial white whale.
Today, Tom spends the majority of his time running a new venture called Impact Theory, a for-profit media company designed to end the generational poverty that is caused by the toxic "poor mindset".
Tune-in to hear Josh and Tom discuss the development of Tom's latest venture, Impact Theory, as well as...
The limitations of constrictive belief systems
What it means to make someone else your #1
The value of being totally open and exposed and vulnerable to criticism
What it takes to build (and maintain) a successful marriage
How entrepreneurs should distinguish themselves if they're just getting started
 And much, much more...
#MakingBank #JoshFelber #TomBilyeu
 === ABOUT Josh Felber ===
 As a High Performance Coach and Start-Up Advisor, I help business owners, entrepreneurs, & millennials understand where you can grow your business with fast proven results to obtain wealth and find freedom.
 A serial entrepreneur with 28+ years of starting and growing multiple multi-million dollar companies (including one with $5 Billion annual revenues), I've been:
 2x Best-Selling Author as a co-author with Steve Forbes & Brian Tracy
Voted the Best Personal Finance Expert in 2014 (National GOBankingRates competition)
A contributor to articles on Entrepreneur.com, Inc.com, & Forbes.com
Recognized multiple times in the National Who's Who of Entrepreneurs
Expert guest on NBC, CBS, ABC, and FOX
Keynote Speaker
Host of Making Bank TV Show
I've helped my clients achieve:
 Business growth from 6 to 7 figures & doubled revenues in as short as 6 months
Sales growth in 25% within 3 months using online and digital marketing
Go from 0 to $30 Million company valuation in 9 years
Get daily Success Tips on FB: http://www.FB.com/JoshFelber10x
 Meet Josh at his WEBSITE: bit.ly/JoshFelber
 Read Josh's BLOG on: http://bit.ly/JoshF_BLOG
 Follow Josh on TWITTER: http://bit.ly/JoshF_TWITTER
 Follow Josh on LINKEDIN: http://bit.ly/JoshF_LINKEDIN