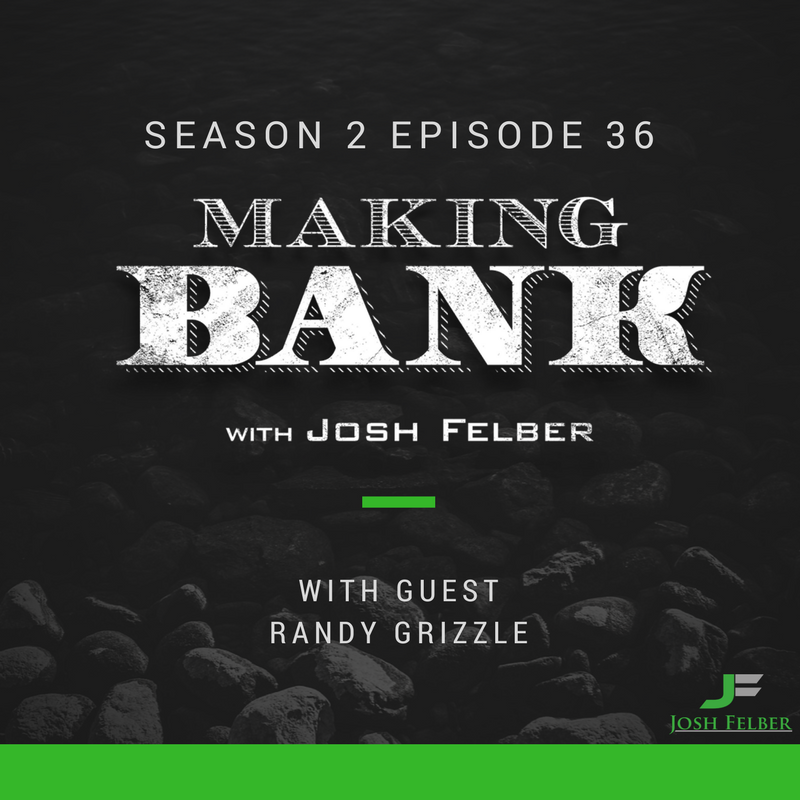 MAKING BANK is now a weekly YouTube TV show / iTunes Podcast full of #Success and #Business with Josh. 
Subscribe to the Podcast MP3: http://bit.ly/TumblrSubscribe
Subscribe to iTunes: http://bit.ly/JoshF_Itunes
SUBSCRIBE for weekly episodes and bonuses: http://bit.ly/JoshFSubscribe 
=== SUMMARY ===
The world of sales is a lot like the world of professional golf—the winner of a 72-hole tournament may only finish two or three strokes ahead of the golfer who comes in 10th place, but the payouts between 1st place and 10th place are radically different. 
The same is true of sales. 
The top salesman might only close a few more deals than you, but those few deals are going to radically alter how he's compensated compared to you. 
Of course, this lesson applies to more than salespeople, it applies to companies as a whole—the difference between meeting your quarterly or annual revenue numbers might only be one or two deals, but how you feel when you miss those goals versus how you feel when you hit them is miles apart. 
So, how do you avoid that "close-but-no-cigar" feeling? How do you make sure you and your company are one of the "winners"? 
Well, that's what host Josh Felber wants to find out on today's episode of Making Bank, featuring guest Randy Grizzle. 
Randy is a man who knows how to create value through negotiating and has successfully closed thousands of high-ticket sales, simultaneously generating tens of millions of dollars in revenue. 
Growing up on a cattle farm in rural Idaho, you wouldn't peg Randy as the kind of kid who would grow up to be one of America's most successful salesmen, but—as we've highlighted time and time again on Making Bank—nobody can be limited by their origin story. Randy has become a true master of the sale and is getting ready to share his sales-generating secrets in a new book titled Closer Secrets.
With the book, Randy hopes to help business owners successfully bridge the gap between their product or service, and what it takes to actually sell that item at a high-ticket price point. 
For the entrepreneur who knows what they do is amazing but doesn't know how to sell that amazingness, this is the book for you!
 In addition to discussing the book, Randy and Josh will also talk about... 
How selling is not about selling—it's about value delivery
Why mastery of the fundamentals is the secret to success
How relatability is essential to sales and identifying the real why
Why a little bit of difference now can make a HUGE difference tomorrow
Routine—how it separates those who operate at a super-high level from "average" individuals
Why companies need to learn to focus on the specifics as opposed to the "overall" picture if they want BIG sales
=== ABOUT Josh Felber ===
As a High-Performance Coach and Start-Up Advisor, I help business owners, entrepreneurs, & millennials understand where you can grow your business with fast proven results to obtain wealth and find freedom. 
A serial entrepreneur with 28+ years of starting and growing multiple multi-million dollar companies (including one with $5 Billion annual revenues), I've been:
2x Best-Selling Author as a co-author with Steve Forbes & Brian Tracy
Voted the Best Personal Finance Expert in 2014 (National GOBankingRates competition)
A contributor to articles on Entrepreneur.com, Inc.com, & Forbes.com
Recognized multiple times in the National Who's Who of Entrepreneurs
Expert guest on NBC, CBS, ABC, and FOX
Keynote Speaker
Host of Making Bank TV Show
I've helped my clients achieve:
Business growth from 6 to 7 figures & doubled revenues in as short as 6 months
Sales growth in 25% within 3 months using online and digital marketing
Go from 0 to $30 Million company valuation in 9 years
Get daily Success Tips on FB: http://www.FB.com/JoshFelber10x 
Meet Josh at his WEBSITE: bit.ly/JoshFelber 
Read Josh's BLOG on: http://bit.ly/JoshF_BLOG 
Follow Josh on TWITTER: http://bit.ly/JoshF_TWITTER 
Follow Josh on LINKEDIN: http://bit.ly/JoshF_LINKEDIN