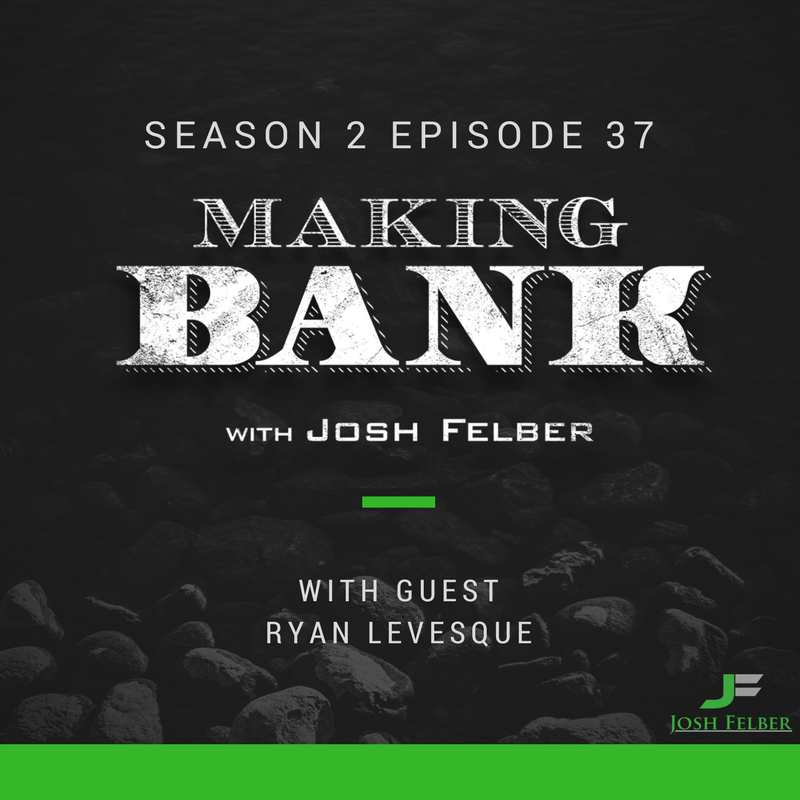 MAKING BANK is now a weekly YouTube TV show / iTunes Podcast full of #Success and #Business with Josh. 
Subscribe to the Podcast MP3: http://bit.ly/TumblrSubscribe
Subscribe to iTunes: http://bit.ly/JoshF_Itunes
SUBSCRIBE for weekly episodes and bonuses: http://bit.ly/JoshFSubscribe 
=== SUMMARY ===
When you look back on your childhood, what can you remember from your days in school? 
A bully? A best friend? A field-trip? 
More than anything, you probably remember the system of measurement. A collection of tests, essays, homework assignments, and in-class presentations for which you were academically judged and ranked with an arbitrary letter-grade.
 And the grade you received? Well, that grade was largely determined by your ability to provide answers. 
Having the "answer" was the means to achieving success. 
For at least the first 18-years of your life, you were conditioned to focus on "the answer" in order to achieve success, and because of that conditioning, you probably still focus on having "the answer" as a professional. 
When you're trying to sell your product, your service, your value, etc. you focus on giving your prospect "the answers" because you still believe answers are the way in which you will achieve your goals. The problem is answers aren't the conduit to professional success like they were the conduit to academic success. 
In the professional world, it's not the answers but the questions that lead to success, and the entrepreneur who can ask the right questions with the greatest regularity is the entrepreneur who will find themselves king of the hill. 
So, if your goal is to become a successful entrepreneur, you need to learn how to Ask, just like today's guest, Ryan Levesque did. 
An online marketing expert and highly-regarded author, Ryan has been lauded by media outlets from CNBC to the San Francisco Chronicle for his capacity to ask the "singe most-important question" in any situation. 
Today on Making Bank, host Josh Felber invites Ryan onto the show to share his international journey, his very real brush with death, and explain how he became one of the most highly-regarded marketing minds on the planet. 
Ryan will also provide some invaluable advice for entrepreneurs looking to get a leg-up on their competition, and grow their businesses from floundering operations to cash-machines doing $25K or more a month. 
You will learn... 
The significance of leaving a legacy.
How to start thinking small to score BIG.
What makes a question more powerful than an answer.
Why the online business is the sacred cow for the introverted entrepreneur.
 And more...
=== ABOUT Josh Felber ===
As a High-Performance Coach and Start-Up Advisor, I help business owners, entrepreneurs, & millennials understand where you can grow your business with fast proven results to obtain wealth and find freedom. 
A serial entrepreneur with 28+ years of starting and growing multiple multi-million dollar companies (including one with $5 Billion annual revenues), I've been:
2x Best-Selling Author as a co-author with Steve Forbes & Brian Tracy
Voted the Best Personal Finance Expert in 2014 (National GOBankingRates competition)
A contributor to articles on Entrepreneur.com, Inc.com, & Forbes.com
Recognized multiple times in the National Who's Who of Entrepreneurs
Expert guest on NBC, CBS, ABC, and FOX
Keynote Speaker
Host of Making Bank TV Show
I've helped my clients achieve:
Business growth from 6 to 7 figures & doubled revenues in as short as 6 months
Sales growth in 25% within 3 months using online and digital marketing
Go from 0 to $30 Million company valuation in 9 years
Get daily Success Tips on FB: http://www.FB.com/JoshFelber10x 
Meet Josh at his WEBSITE: bit.ly/JoshFelber 
Read Josh's BLOG on: http://bit.ly/JoshF_BLOG 
Follow Josh on TWITTER: http://bit.ly/JoshF_TWITTER 
Follow Josh on LINKEDIN: http://bit.ly/JoshF_LINKEDIN