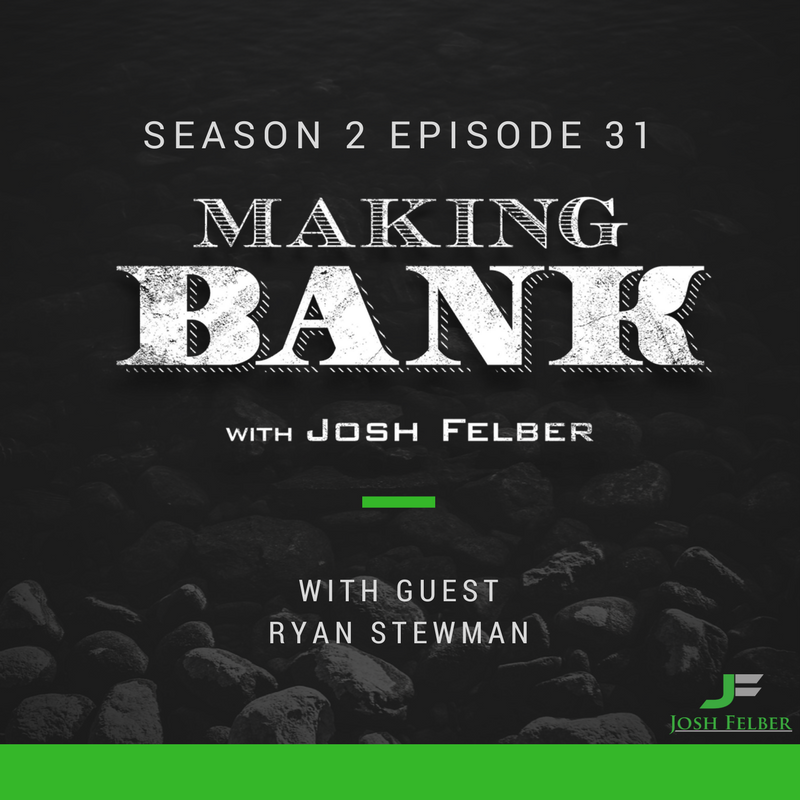 MAKING BANK is now a weekly YouTube TV show / iTunes Podcast full of #Success and #Business with Josh. 
Subscribe to the Podcast MP3: http://bit.ly/TumblrSubscribe
Subscribe to iTunes: http://bit.ly/JoshF_Itunes
SUBSCRIBE for weekly episodes and bonuses: http://bit.ly/JoshFSubscribe 
=== SUMMARY ===
Prison isn't a place any entrepreneur wants to go, but it's exactly where today's guest ended up a few years ago.
His name is Ryan Stewman, and his story is unlike any host Josh Felber has ever shared on Making Bank.
A two-time felon, Ryan overcame a checkered past through hard work, fierce determination, and an insatiable appetite for learning (in prison he read at least one book per day, sometimes two).
Today, Ryan works as an online coach and mentor for those aspiring entrepreneurs who want to change their businesses for the better. Coupling his impressive life experience, incredible business knowledge, and passion for helping others, the lessons Ryan offers aren't complicated, but they are effective.
In fact, they're incredibly effective. And to those who've known him longest, Ryan is a limitless source of confidence, inspiration, and energy that can be tapped at a moment's notice to catapult careers to the next level.
Get ready to hear Josh and Ryan discuss what it takes to crawl from the pits of the Federal Prison System to the very top of the entrepreneurial landscape, and share a number of key insights including...
The difference between selling the best-case scenario and the worst-case scenario...
Why the creation of a strict schedule can be the catalyst for exponential growth and development...
How the smallest opportunities—like working at a car wash—can lead to your biggest business returns...
The importance of mitigating everyday distractions—like television—to create a healthier lifestyle...
And more...
=== ABOUT Josh Felber ===
As a High Performance Coach and Start-Up Advisor, I help business owners, entrepreneurs, & millennials understand where you can grow your business with fast proven results to obtain wealth and find freedom. 
A serial entrepreneur with 28+ years of starting and growing multiple multi-million dollar companies (including one with $5 Billion annual revenues), I've been:
2x Best-Selling Author as a co-author with Steve Forbes & Brian Tracy
Voted the Best Personal Finance Expert in 2014 (National GOBankingRates competition)
A contributor to articles on Entrepreneur.com, Inc.com, & Forbes.com
Recognized multiple times in the National Who's Who of Entrepreneurs
Expert guest on NBC, CBS, ABC, and FOX
Keynote Speaker
Host of Making Bank TV Show
I've helped my clients achieve:
Business growth from 6 to 7 figures & doubled revenues in as short as 6 months
Sales growth in 25% within 3 months using online and digital marketing
Go from 0 to $30 Million company valuation in 9 years
Get daily Success Tips on FB: http://www.FB.com/JoshFelber10x 
Meet Josh at his WEBSITE: bit.ly/JoshFelber 
Read Josh's BLOG on: http://bit.ly/JoshF_BLOG 
Follow Josh on TWITTER: http://bit.ly/JoshF_TWITTER 
Follow Josh on LINKEDIN: http://bit.ly/JoshF_LINKEDIN