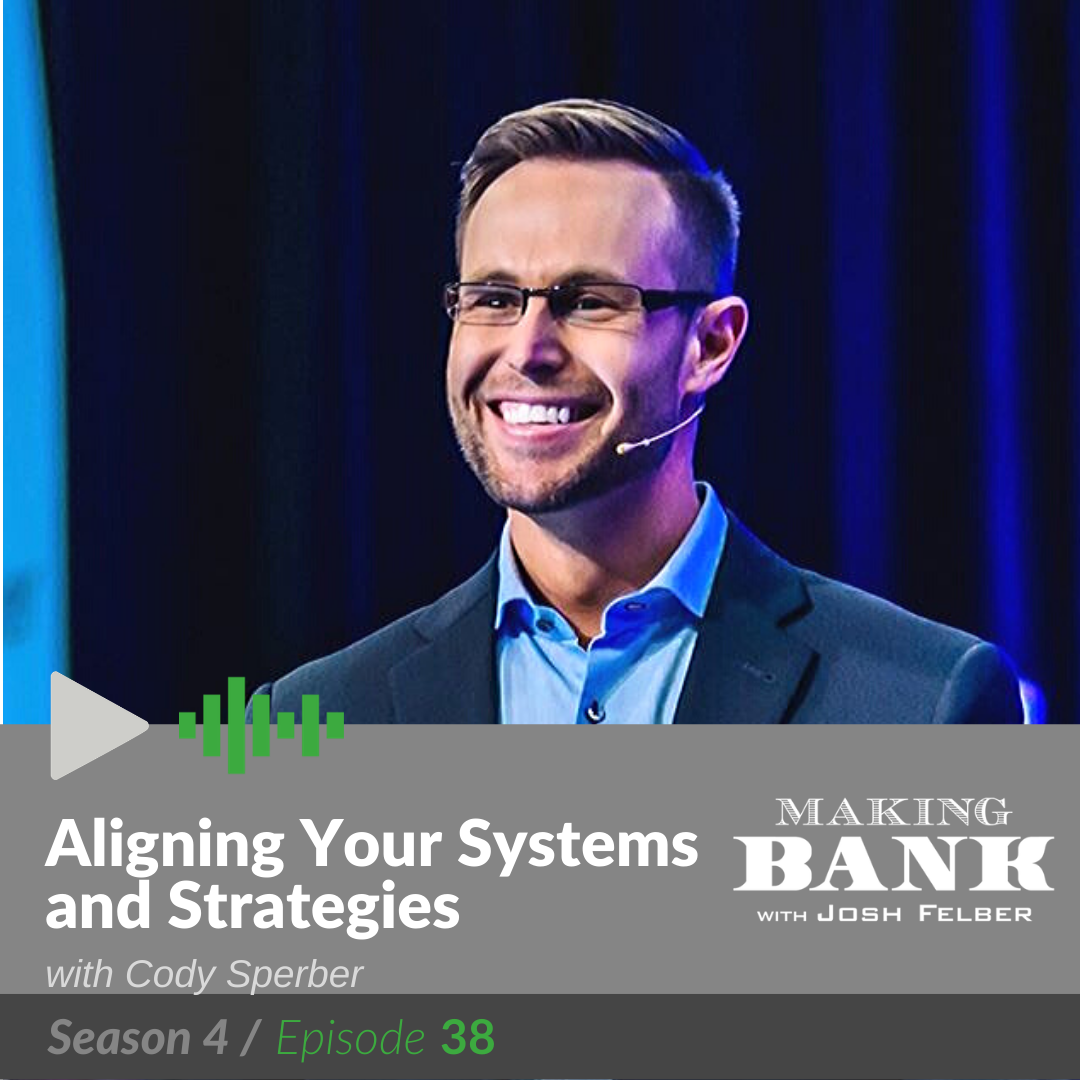 MAKING BANK is now a weekly YouTube TV show - iTunes Podcast uncovering the Mindset and Success Strategies of the Top 1% so You Can Amplify Your Life & Business.
Subscribe to iTunes: bit.ly/JoshF_Itunes
SUBSCRIBE for weekly episodes and bonuses: bit.ly/JoshFSubscribe
=== SUMMARY === 🚨🚨🚨
On Season 4 Episode 38 of the Making Bank Podcast we are joined by none other than Cody Sperber, one of the most successful real estate investors in the country who now runs his own business teaching people to build their own financial fortresses. He is a top Instagram influencer with over a million followers who knows social media marketing like the back of his hand.
Before the marketing funnels however, Cody was just a kid who hated school and didn't want to go to college. He grew up with very little and always had his mind set on building a fortune for himself. After high school he joined the navy and began building the mindset that would help him thrive in the business world. He has drawn on all of his experiences to explain some of the keys to success, and his insights today include: 🚀🚀🚀
✔The importance of systems
✔Building a strong team with the right people and the right encouragement
✔Learning from setbacks instead of letting them stop you
✔The right and wrong ways to build an Instagram following
✔'Omnipresence.' Aligning your strategy across platforms.
✔Working on problems that drive him so much he becomes obsessed
And much more! -- 👉 Full Episode Details - http://pix.joshfelber.com/CodySperber
#MakingBank, #CorySperber #joshfelber.com, #josh, #felber, #entrepreneur, #MakingBankS4E38, #systems, #strategy
🔥 = ABOUT Josh Felber = Free Success Mindset eBook 🔥 joshfelber.com/successmindsetebook
As a GOD Focused, High-Performance Dad, Family man and Serial Entrepreneur, I help others Master the 4 Pillars of an Integrated Life. FAITH, FAMILY, FITNESS & ENTREPRENEURSHIP..
A serial entrepreneur with 31+ years of starting and growing multiple multi-million dollar companies I've been Featured:
• 3x Inc 5000 Serial Entrepreneur
• 2x Emmy Award Winning Producer
• A contributor to articles on Entrepreneur.com, Inc.com, & Forbes.com
• 2x Best-Selling Author as a co-author with Steve Forbes & Brian Tracy
• Expert guest on NBC, CBS, ABC, FOX and Featured on NASDAQ JumboTron
• Keynote Speaker
• Host of Making Bank TV Show
🚀 Launched Impact Podcast Agency A Full Service Solution for Podcast Hosts:
• Helped Clients Create Massive Growth of listeners for their Podcast
• Helped Podcast Hosts Create an Impact with their shows
• Check Out ImpactPodcastAgency.com if you want to be Omnipresent with your show.
Get daily Success Tips on Instagram.com/JoshFelber
FB: www.FB.com/JoshFelber10x
Meet Josh at his WEBSITE: bit.ly/JoshFelber
Read Josh's BLOG on: bit.ly/JoshF_BLOG
Follow Josh on TWITTER: bit.ly/JoshF_TWITTER
Follow Josh on TikTok: vm.tiktok.com/q1f56v/
Follow Josh on LINKEDIN: bit.ly/JoshF_LINKEDIN