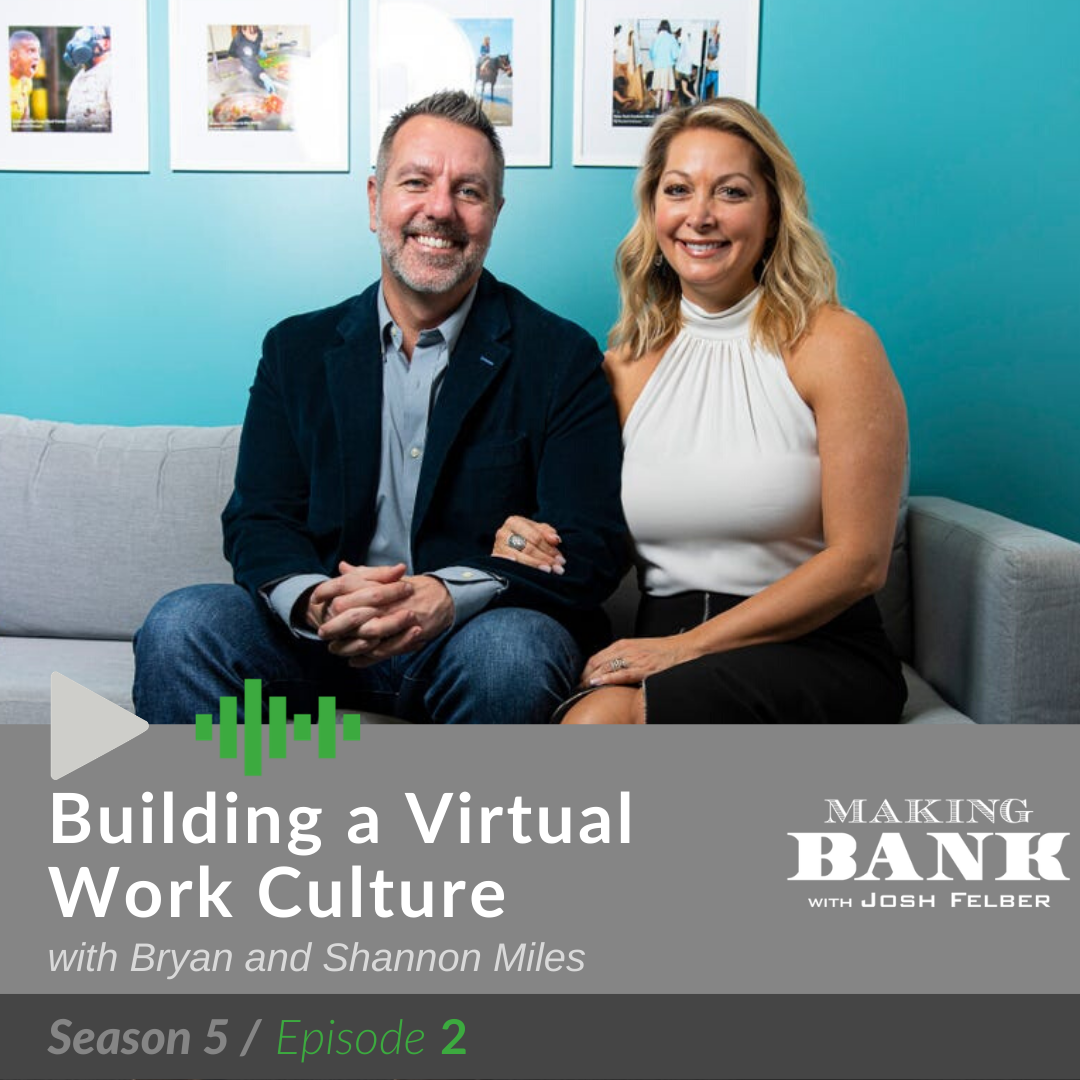 MAKING BANK is now a weekly YouTube TV show - iTunes Podcast uncovering the Mindset and Success Strategies of the Top 1% so You Can Amplify Your Life & Business.
Subscribe to iTunes: bit.ly/JoshF_Itunes
SUBSCRIBE for weekly episodes and bonuses: bit.ly/JoshFSubscribe
=== SUMMARY === 🚨🚨🚨
Bryan and Shannon, co-founders and co-chairmen of BELAY, a virtual assistant staffing company, join us on this episode of the Making Bank podcast. Today, we discuss virtual work culture and the benefits to hiring a virtual assistant, especially in more recent months.  
After working in other corporations for over ten years, married couple Bryan and Shannon Miles decided to quit their jobs and start a virtual assistant staffing company together. A decade later and with over 1100 employees, BELAY personally matches clients' needs with the right virtual assistants, saving the client both time and money.   
In this episode, Bryan and Shannon discuss not just the importance of delegating your workload, but also how to efficiently create a work culture in a virtual setting. They believe that a physical building doesn't necessitate a strong work environment. Rather, trust, loyalty, and perspective lead to a boost productivity. They dive into why working remotely during COVID-19 is not a good measure of the work-from-home experience. Before the entire world went remote, BELAY has been successfully operating as a virtual workplace for over ten years, and any business or person can learn a lot from what they've accomplished. 
Highlights from the episode include:  🚀🚀🚀
✔How a well-matched assistant can boost your career and company 
✔Starting a business together as a married couple  
✔Determining when and how to delegate your workload  
✔How to define to work culture in a virtual environment  
✔Ensuring productivity while working from home for yourself and others 
✔Why remote work during COVID-19 is not a good indicator for a work-from-home experience
And much more! -- 👉 Full Episode Details - http://pix.joshfelber.com/Bryan-Shannon-Miles
#MakingBank, #BryanMiles, #ShannonMiles, #Belay, #joshfelber.com, #josh, #felber, #entrepreneur, #MakingBankS5E2, #Virtualwork, #culture, #COVID-19, #productivity
🔥 = ABOUT Josh Felber = Free Success Mindset eBook 🔥 joshfelber.com/successmindsetebook
As a GOD Focused, High-Performance Dad, Family man and Serial Entrepreneur, I help others Master the 4 Pillars of an Integrated Life. FAITH, FAMILY, FITNESS & ENTREPRENEURSHIP..
A serial entrepreneur with 31+ years of starting and growing multiple multi-million dollar companies I've been Featured:
• 3x Inc 5000 Serial Entrepreneur
• 2x Emmy Award Winning Producer
• A contributor to articles on Entrepreneur.com, Inc.com, & Forbes.com
• 2x Best-Selling Author as a co-author with Steve Forbes & Brian Tracy
• Expert guest on NBC, CBS, ABC, FOX and Featured on NASDAQ JumboTron
• Keynote Speaker
• Host of Making Bank TV Show
🚀 Launched Impact Podcast Agency A Full Service Solution for Podcast Hosts:
• Helped Clients Create Massive Growth of listeners for their Podcast
• Helped Podcast Hosts Create an Impact with their shows
• Check Out ImpactPodcastAgency.com if you want to be Omnipresent with your show.
Get daily Success Tips on Instagram.com/JoshFelber
FB: www.FB.com/JoshFelber10x
Meet Josh at his WEBSITE: bit.ly/JoshFelber
Read Josh's BLOG on: bit.ly/JoshF_BLOG
Follow Josh on TWITTER: bit.ly/JoshF_TWITTER
Follow Josh on TikTok: vm.tiktok.com/q1f56v/
Follow Josh on LINKEDIN: bit.ly/JoshF_LINKEDIN