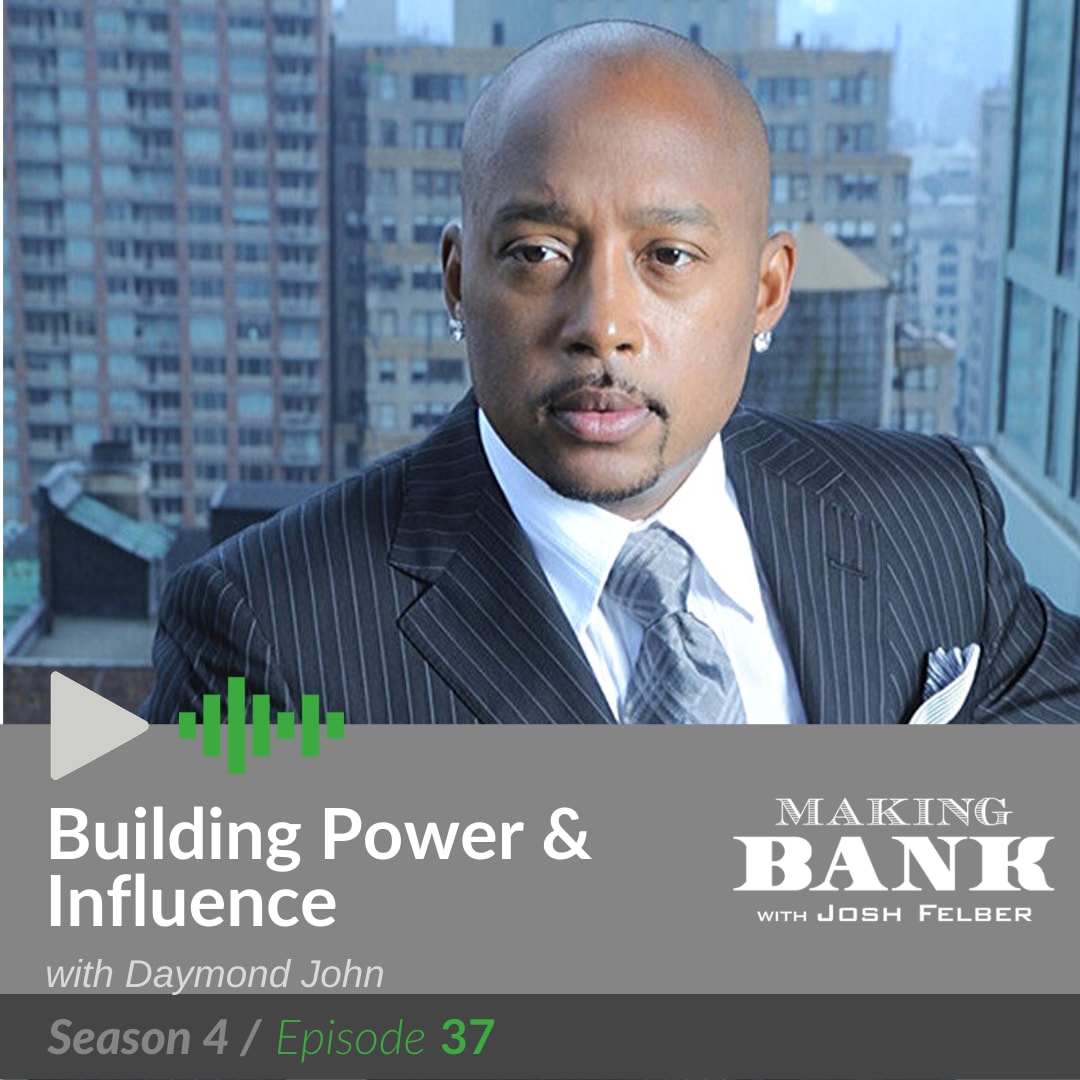 MAKING BANK is now a weekly YouTube TV show - iTunes Podcast uncovering the Mindset and Success Strategies of the Top 1% so You Can Amplify Your Life & Business.
Subscribe to iTunes: bit.ly/JoshF_Itunes
SUBSCRIBE for weekly episodes and bonuses: bit.ly/JoshFSubscribe
=== SUMMARY === 🚨🚨🚨
Shark Tank star Daymond John, fashion icon and founder of FUBU, joins us today on season 4 episode 37 of the Making Bank Podcast! Daymond has one of the most inspirational stories of anyone who's ever been on Making Bank. His path to success - unimaginable success - started when he only had $40 to his name, and now includes multiple business empires and recognizable star power. He counts Mark Cuban among his close personal friends and partners, and through his clothing brands he's connected to every major rapper you've heard of.
Daymond's insights run far and wide, but today he joins us to talk about how to begin building influence, how to pitch to people - including himself - and how to get started even when, like when he began his journey, you have no money. Today's episode is beyond insightful, it's fun and invigorating. Bring a pen and paper! A few major takeaways include: 🚀🚀🚀
✔The importance of networking
✔Breaking the stigma of needing money to make money
✔Selling yourself by being likeable
✔Knowing not just what to say, but how to say it
✔Thinking from the other person's perspective in a negotiation
✔How to treat and value your most important relationships
And much more! -- 👉 Full Episode Details - http://pix.joshfelber.com/DaymondJohn
#MakingBank, #DaymondJohn #joshfelber.com, #josh, #felber, #entrepreneur, #MakingBankS4E37, #networking, #negotiations, #relationships
🔥 = ABOUT Josh Felber = Free Success Mindset eBook 🔥 joshfelber.com/successmindsetebook
As a GOD Focused, High-Performance Dad, Family man and Serial Entrepreneur, I help others Master the 4 Pillars of an Integrated Life. FAITH, FAMILY, FITNESS & ENTREPRENEURSHIP..
A serial entrepreneur with 31+ years of starting and growing multiple multi-million dollar companies I've been Featured:
• 3x Inc 5000 Serial Entrepreneur
• 2x Emmy Award Winning Producer
• A contributor to articles on Entrepreneur.com, Inc.com, & Forbes.com
• 2x Best-Selling Author as a co-author with Steve Forbes & Brian Tracy
• Expert guest on NBC, CBS, ABC, FOX and Featured on NASDAQ JumboTron
• Keynote Speaker
• Host of Making Bank TV Show
🚀 Launched Impact Podcast Agency A Full Service Solution for Podcast Hosts:
• Helped Clients Create Massive Growth of listeners for their Podcast
• Helped Podcast Hosts Create an Impact with their shows
• Check Out ImpactPodcastAgency.com if you want to be Omnipresent with your show.
Get daily Success Tips on Instagram.com/JoshFelber
FB: www.FB.com/JoshFelber10x
Meet Josh at his WEBSITE: bit.ly/JoshFelber
Read Josh's BLOG on: bit.ly/JoshF_BLOG
Follow Josh on TWITTER: bit.ly/JoshF_TWITTER
Follow Josh on TikTok: vm.tiktok.com/q1f56v/
Follow Josh on LINKEDIN: bit.ly/JoshF_LINKEDIN