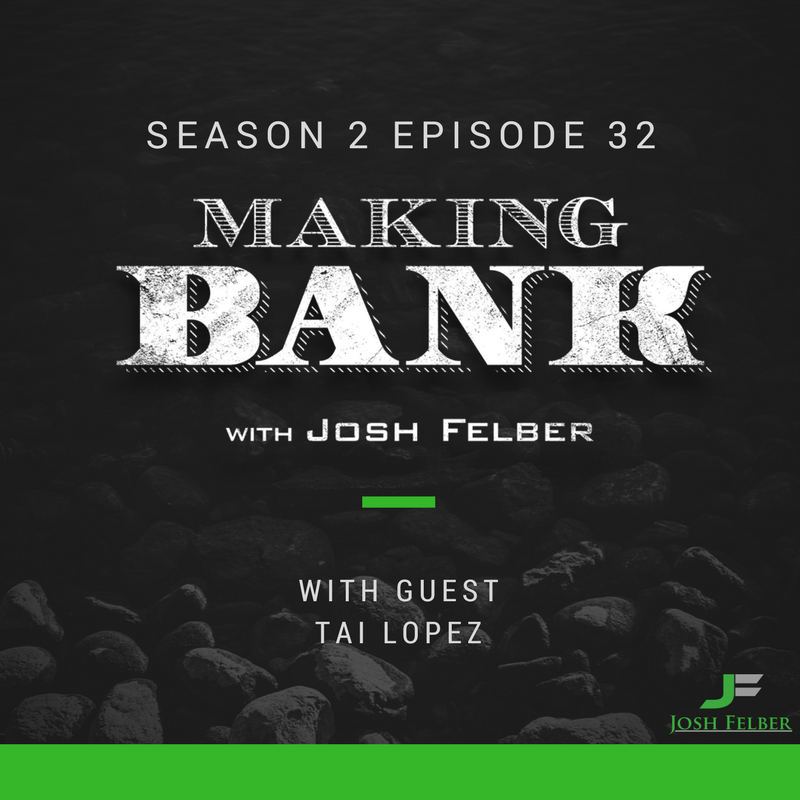 MAKING BANK is now a weekly YouTube TV show / iTunes Podcast full of #Success and #Business with Josh. 
Subscribe to the Podcast MP3: http://bit.ly/TumblrSubscribe
Subscribe to iTunes: http://bit.ly/JoshF_Itunes
SUBSCRIBE for weekly episodes and bonuses: http://bit.ly/JoshFSubscribe 
=== SUMMARY ===
There are no "born" entrepreneurs.
Yes, some men and women are dispositioned to be more successful walking the entrepreneurial path, but even the most naturally gifted entrepreneur has to work long and hard to actually become one. 
And it is in the cauldron of that hard work—in the midst of pouring out all that blood, all that sweat, and all those tears—that every entrepreneur learns an invaluable lesson: 
It's impossible to make it to the top alone. 
The days are too short. The knowledge gap is too wide. And the journey is too exhausting. 
To become an entrepreneur of worth and note, it takes a team of people. Mentors—not supporters—who can share their years of experience, and introduce you to a platform of greatness upon which you can build your entrepreneurial vision. 
That is the message of today's guest on Making Bank, legendary internet marketer, Tai Lopez, a man who went from broke to living in Beverly Hills with a cherry-red Ferrari parked in his garage. 
Tai believes that entrepreneurial success isn't about reinventing the wheel, and it isn't about stubbornly going it alone. Rather, entrepreneurial success is about taking the ideas of those who've achieved the success you want, and making those ideas even better.
 Tune in to hear host Josh Felber, talk to Tai about his experience as an entrepreneur, extracting invaluable advice along the way that includes... 
Why stubbornness and sensitivity are the Achilles heel of the everyday entrepreneur...
The power of facing the stark reality of the human timeline head-on...
What it takes to amplify your learning curve...
How to create a group of valuable advisors...
And more...
=== ABOUT Josh Felber ===
As a High Performance Coach and Start-Up Advisor, I help business owners, entrepreneurs, & millennials understand where you can grow your business with fast proven results to obtain wealth and find freedom. 
A serial entrepreneur with 28+ years of starting and growing multiple multi-million dollar companies (including one with $5 Billion annual revenues), I've been:
2x Best-Selling Author as a co-author with Steve Forbes & Brian Tracy
Voted the Best Personal Finance Expert in 2014 (National GOBankingRates competition)
A contributor to articles on Entrepreneur.com, Inc.com, & Forbes.com
Recognized multiple times in the National Who's Who of Entrepreneurs
Expert guest on NBC, CBS, ABC, and FOX
Keynote Speaker
Host of Making Bank TV Show
I've helped my clients achieve:
Business growth from 6 to 7 figures & doubled revenues in as short as 6 months
Sales growth in 25% within 3 months using online and digital marketing
Go from 0 to $30 Million company valuation in 9 years
Get daily Success Tips on FB: http://www.FB.com/JoshFelber10x 
Meet Josh at his WEBSITE: bit.ly/JoshFelber 
Read Josh's BLOG on: http://bit.ly/JoshF_BLOG 
Follow Josh on TWITTER: http://bit.ly/JoshF_TWITTER 
Follow Josh on LINKEDIN: http://bit.ly/JoshF_LINKEDIN